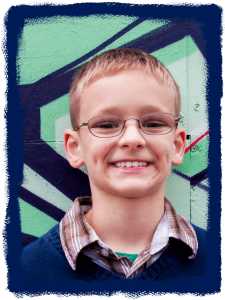 My son Andrew has a de novo, balanced tranlocation between the long arms of chromosomes 11 and 13. That sentence probably seems like I am writing in Greek, and I wouldn't have understood it either until about 7 years ago, when Andrew was around 3 years old. We noticed when he was almost 24 months old he wasn't speaking clearly at all. He was also starting some 'interesting' behaviors like crawling across the floor rubbing the top of his head on the carpet, or laying down for hours just staring at the wheels on his truck as he rolled it back and forth in front of his face. He also started becoming very frustrated at times and hitting our older daughter or biting her, for what seemed like no reason. At first, I thought I was just not disciplining him enough, and he was getting spoiled for some reason, but gut instinct told me after a few months that it was something more.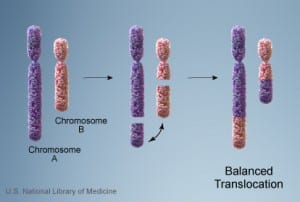 We took Andrew to the doctor and checked for allergies, we had him evaluated for Autism (he is way too social). We had a speech therapist come evaluate him when he was three, and found that his verbal abilities were at about 11 months old. The Early Intervention program also evaluated him for Sensory Processing issues, which led to finding out that he has flat feet, fine and gross motor skill deficiencies and unusually long ligaments throughout his body, which helped us to understand why he felt the need to throw himself onto the floor, lick strange things like jeans and window screens, and why he still LOVED being swaddled at night (the pressure of the blankets on his skin feels good).
We didn't know why we had this wonderful child, with so many special needs. We kept on taking him to doctors, psychiatrists, neurologists and finally to a geneticist trying to find out what was causing all these issues. When the geneticist called us to let us know they found something, we were filled with relief, we finally had some kind of answer, but also quite a bit of sadness. Somehow it felt like we had lost a part of him, I think the part where parents have certain expectations of how their child will function and grow to become an adult, and we were sad that those expectations were no longer realistic.
My husband and I both had our chromosomes tested, and they came back normal, meaning Andrew's translocation was 'de novo', or what they consider to be a random occurrence. One of the most difficult parts of the finding is that genetic testing has not come far enough yet to be able to tell us exactly what the translocation is affecting, and as there are no other known cases with Andrew's exact chromosome disorder, we have no other people to compare him against to try and find out what his course of development will be. In fact, just three years ago we found out that he is legally blind, at 7 years old!
So, why am I writing about this for everyone to read? Today marks the first ever Chromosome Disorder Awareness Week (June 2nd -8th). Most people are familiar with the more common chromosome disorders that have names, such as Down's Syndrome, Turner's Syndrome, Klinefelter's Syndrome and Prader-Willi Syndrome. However, there are thousands and thousands of people, like Andrew, with chromosome disorders that are so rare, they haven't been named, and doctors don't really know what to tell the parents of these children to expect as their child develops.   That is where organizations like 'Unique' and 'Chromosome Disorder Outreach' come into play. They are worldwide non-profit organizations that help parents by keeping a database of user submitted information about rare chromosome disorders, in the hopes that maybe there are parents somewhere in the world who have children with the same, or very similar chromosome disorders, who can connect and help support each other.  They provide resources and help from many different types of doctors, genetic counselors and others in the genetic field to assist parents however they can with answering questions and linking them to those doctors who would help them the most.
Andrew is registered in both organizations, though no matches have been identified with his exact chromosome disorder, I keep his records updated so in the future maybe I can be a resource to someone else who finds they or their child have the same disorder. I have never posted anything before to ask for donations, but I feel this is a worthy cause and I have been very supported by these groups throughout the years as I am able to connect with other parents who are going through the same frustrations and joys that you have when you are faced with this type of challenge. If you feel moved, please consider donating to the U.S. based Chromosome Disorder Outreach organization. You can do so by donating money, or by purchasing the CDO branded products through their store (I think their t-shirts are really cute).
Thank you so much for taking the time to read Andrew's story. He is a wonderful 10 year old boy who is learning and growing every day and I am so thankful to be his mom!