On average, each person in the U.S. throws away 70 pounds of clothing per year and purchases 70 new pieces to replace them. In the U.S., the average spending per year for clothing for one person is $1,700, which doesn't seem like a lot, unless you have a spouse and three children like me, it bumps up that average spend to $8,500 per year. The average family size in the U.S. right now is 2.6 people, bringing the cost to $4,420 per year for new clothing per household.
"Use it up, wear it out, make it do or do without." doesn't seem to apply anymore in today's world of cheap clothing made and imported from who knows where and sold at the local retail store always on sale for $7-$15 a piece. The construction is often cheap and the item can't be worn and washed more than a few times before it starts fading or the seams start raveling. No wonder we are purchasing an average of 1.35 new pieces of clothing per week per person!
Well, enough of averages…the good thing about averaging is that it is just that, an average. For each of us individually, we have the opportunity to opt out of the 'average' and control our own usage and costs. For me, that means buying higher quality clothing, fewer pieces of it, and making sure that I use, repair and wear it as long as possible before I donate it to the local thrift store. I NEVER throw away clothing, even if it has holes and stains in it. You don't have to donate it for wear, thrift stores like the Goodwill and Salvation Army make part of their income from selling unusable clothing to textile mills for recycling. The U.S. population throws in the trash approximately 3.8 billion pounds of clothing per year, all of which could be recycled for reuse in textile mills.
If you have decided to take the step to declutter your clothing and minimize your wardrobe, and you find yourself in need of a few new pieces, where can you find high quality items of clothing that will wear forever and a day? It's not going to be at your local Wally World. Depending on the type of clothing you wear, you'll need to do some research into brands, consumer reviews and cost to find where you can get the best quality clothing for your personal style and for the money.  For me, this seems to be the only responsible thing to do.
The next time you're in the mood to clean out your closet, donate your clothing, don't toss it in the trash.  Ask yourself, do you REALLY need to replace it with new items? If you really do, save your money and buy classic, high quality pieces that will last for years and won't go out of style to minimize your costs long-term. Bonus to you if you can find those items at the local thrift store and are willing to purchase second-hand clothing instead of new!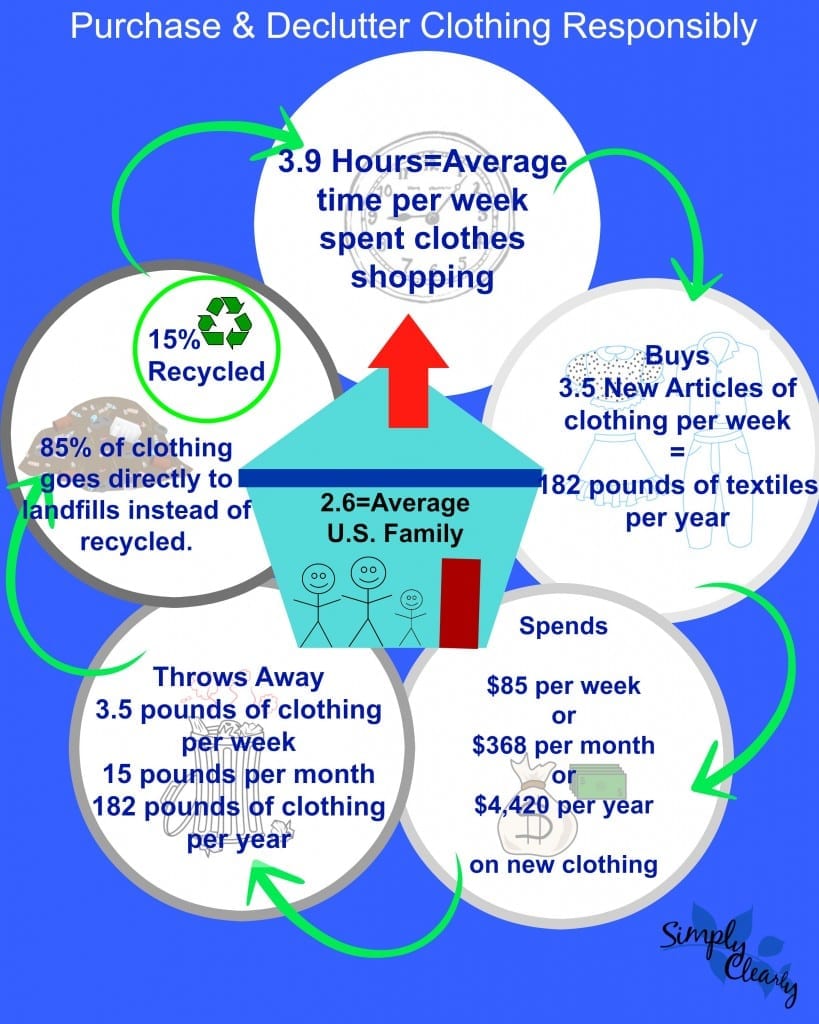 For sources and more information on the graphic above, check out these sites: