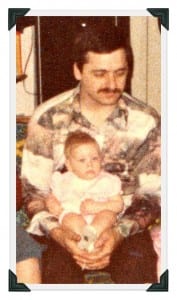 First off, Happy Father's Day to my wonderful Dad, and to my husband, the father of our three children! Aside from having a special day each June to celebrate how wonderful they are, I like to think about the things they do regularly that makes them such great fathers. I know I'm pretty lucky that I was able to grow up with my Dad in my life, and my children are blessed to have their father around all the time too. There are many people who don't have that luxury, or have a father that maybe they wish WASN'T around. However, since I am one of those that can appreciate the dad's in my life, I'd like to share 5 fun things I love about them both. Enjoy!
They are super handy. I don't remember a time while I was growing up that my Mom or Dad ever had to call someone to come to our house and 'fix' something broken in our home. My Dad somehow always knew how to take whatever was broken apart, and fix it! It seemed like he must have gone to the school of 'knowing exactly how to fix any item that may possibly ever break in any way'.   I think my husband must have attended the same school, because we have never had to call anyone either to fix household items that are broken in the 13 years we've been married. Just the other day, he took apart the motor in the icemaker in the fridge, and figured out what was wrong with it and fixed it. We have never had an icemaker until we moved into this house two months ago. They are both very smart men with a knack for understanding gadgets and how things work.
They have amazing memory retention. Both my dad and my husband should go on Jeopardy, just not against each other. J With their ability to remember seemingly every single fact or detail they ever come across on any subject, I think they could both win. I have always been amazed that they can remember details or facts that seem so random, on a wealth of subjects. My husband still remembers what he studied on flashcards when we were 19 and he was helping me study for my Psychology 101 semester final.
They are cool and calm. Level-headedness during stressful times is a wonderful and very useful attribute to have, and I'm lucky both my dad and my husband have it. They can think clearly and logically about situations while they are in them and figure out what to do without making emotionally based choices. As I child, I don't ever remember my dad getting extremely agitated over any particular situation. He had his tense moments, but nothing like the out-of-control emotional outbursts others can have in highly stressful situations. I could always count on his calm, quiet personality. My husband is very much the same way, calm, cool and collected, even when he is stressed. The most he'll do his pace around the house when he is stressed.
Both of them like to joke around. They definitely don't joke around the same way, but they do like to have fun and not be too serious!

James and me, St. Maarten, 2011.

My dad is always teasing and playing with his grandchildren when they are around, and word has it from his sisters and mother, when I visited them last month in Washington, that he was quite the tease when they were all kids…I think there's still some trauma there, but I just don't think they understood his fun-loving personality! My husband LOVES satirical comedy, which is pretty funny at times, and he likes a good joke too. He doesn't find knock-knock jokes all that great though.

Last, but not least, they both have kind hearts. Yes, time to get just a little mushy, it IS Father's Day after all. Both my dad and my husband don't 'wear their emotions' publicly that often. They tend to come off as nice, but maybe a little unapproachable at times. After knowing both of them for so many years, I've come to appreciate that side of them, as I can tell when events or items really mean something to them if I CAN see their emotions. For instance, I only remember seeing my Dad teary-eyed twice in my life, once, when our favorite dog Ralph was hit by a car and died when I was 12 or 13, and when I got married. But, I know he has a kind heart because of his actions while I was growing up, and even now that I am older and married with my own family. My husband I see emotional on a more regular basis, just because of the nature of our relationship. It is refreshing to see how much he cares about our children and the happiness in our home.
I'm so thankful for both my dad and my husband, and the fact that I seem to have lucked out when it comes to having some wonderful men in my life. I also have four great brothers who are all father's themselves and have taken the good things from our dad's example and put them to use in their own parenting. Adding in my three fantastic brother-in-laws, and I have a lot of dad's to be grateful for. Happy Father's Day to all of you!