"There is renewal in rest."
Lailah Gifty Akita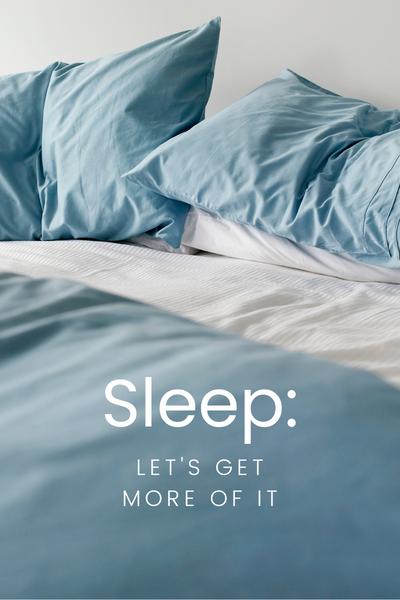 Sleep. One of the areas of life that most of us skimp on in order to accomplish all the other things we feel are so important that they must be done first. Aside from those of us who have young children, we know that their late night cries may be the only real reason we can justify sacrificing our sleep on a regular basis, the majority of us willingly give up our sleep in order to spend more time socializing, exercising, watching TV, doing homework, getting extra hours in on work projects, cleaning the house, reading a favorite book, and the list could go on and on.
I have known for a long time that getting enough sleep is crucial to my health and daily energy levels, but it is also the very first thing that is sacrificed when I try to do too much, taking on too many responsibilities and tasks, eventually experiencing sleep deprivation and burnout. In the past, especially when my children were younger, I would often skimp on sleep all week long trying to accomplish everything I wanted to get done,  and try to catch up on the weekends so I could start the cycle all over again Monday mornings.
I am a natural early riser, and there have been many morning routines over the years that have included getting up in the 4am range. Waking up early hasn't ever been the problem though, I am very productive early mornings, the issue comes when I stay up until 10 or 11pm to 'get more done', then continue to get up early. I become sleep deprived and no amount of caffeine can fix it after a couple of weeks.
Once the sleep deprivation sets in, I find myself too tired to perform daily activities like cooking and more likely to make decisions like ordering out again for dinner, or watching one more episode of whatever the latest Netflix release happens to be. My productivity suffers as well because no amount of caffeine can bring me out of the zombie-like state of not getting enough sleep, and my brain is not clear enough to produce quality work of any kind, whether it be cleaning the house, having quality conversations with my children or engaging with my employees on projects.
It wasn't until I really committed to allowing my body enough sleep that I was able to see the difference in my health, my attitude and the difference in the quality of my life while awake. It might seem strange, but for a long time I looked at sleeping as a sacrifice of my 'productive time' and awareness. I felt like I was losing out on life by spending so much of it sleeping. I wanted to get by on as little sleep as possible so I could do as much as possible. The problem was that I was too tired while awake to do much of anything that was truly productive or contributed to the day with a lot of depth and meaning. Looking back now, it was difficult to work and difficult to concentrate on my relationships, but I thought I was succeeding.
I can't say that anything extraordinary happened that changed my thinking overnight about sleep. Adopting a simpler lifestyle naturally evolved my thinking over time, to the point where health became more important to me, and I actually had the time to sleep because of how much I had simplified in other areas, and because I chose to make the time for it. Since that change, I can see a huge difference in my life, in ALL areas. I'm happier and calmer, I have a nice surge of energy around 5pm which allows me to get just a little more done than I would have before. I'm able to focus more on what's important. I have more meaningful conversations with my family and friends and my work is more creative.
Consider your current sleep habits.
Are you sleeping too little, too much, just enough? What are you sacrificing, if anything, in terms of health, relationships and quality of life by skimping on sleep, or oversleeping? Don't wait years to give your body what it needs to be healthy.
For most of us who lean towards sleeping less than we should, we feel that it is worth the tradeoff of having more time to accomplish specific tasks. Some of the common extra activities many of us engage in instead of getting enough sleep tend to include exercising, working, watching TV or socializing. It's not that any of these things are not a valuable part of our lives, (TV could be otherwise argued), it's just that they may not be nearly as valuable if we aren't first as rested as we can be in order to give our all to our workout, listen intentionally to our friend's conversation, or put in our best effort while working.
What really made a difference in my ability to finally get more sleep, once I decided to make it a priority, was that I had laid the groundwork in simplifying various parts of my life, so they actually took less time, leaving me with more time to dedicate to sleeping.
Timesavers that increased my sleep time –
Learned about healthier hair care, and switched to washing my hair three times a week, instead of every day, and invested in a high quality dry shampoo to use in between wash days. I also took the time to choose a hairstyle I really loved that would allow me to have it fixed in 15 minutes or less each day. (Time saved: 30 minutes on non-shampoo/blow dry days)
Curated my clothing for both work and leisure wear down to 5 pairs of pants and 10 tops that would go with any of the pants, as well as shoes (dark and light Chelsea boots, to be exact) that matched all of my outfit combinations for work. I did the same with my leisure clothing as well. (Time saved: 15 minutes choosing clothing each day)
Alternated my longer workouts with shorter HIIT workouts using Fitness Blender on YouTube. I found that alternating between shorter and longer workouts actually made me feel more rested and I didn't see a noticeable decrease in my strength or stamina on my longer workout days. (Time saved: 25 minutes on the shorter workout days)
Created a daily morning routine of just three tasks that once completed, gave my brain permission to move on with my day. My morning tasks consisted of making my bed, unloading the dishwasher and putting in a load of laundry. As long as those three tasks were completed, everything else could wait until later. (Time saved: 15 minutes of aimlessly doing random household tasks)
As you can see, by making intentional adjustments to a few of the daily tasks I was skimping on sleep to get done, I reclaimed almost an hour of extra sleep on half of the days of the week. Putting this into practice for other tasks that I normally do right before bed has also helped shave time off in the evenings, allowing me to get to bed 15-20 minutes earlier as well.
It can be difficult for someone like myself, who values routine, goals and structure and has a long list of healthy and growth-oriented activities they'd like to get done to admit that my body needs a good 8 hours of sleep, if not 9, in order to have my best day. Sleep can become something that is struggled against and continually sacrificed in order to do one more thing. However, it makes a world of difference in the quality of what I am able to accomplish on a given, well-rested day, and contributes to a balanced, healthy lifestyle, one of my top goals.