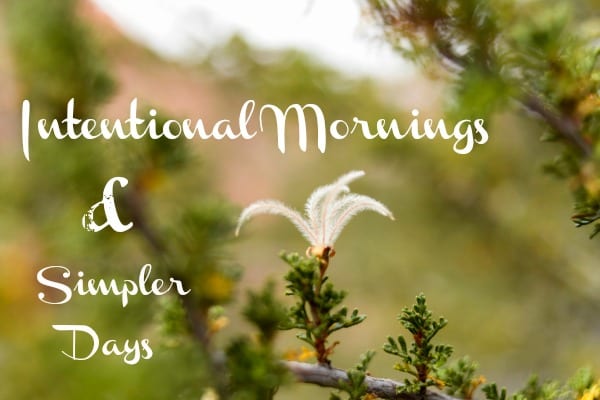 I have always been a morning person, waking up before everyone in our home and enjoying the quiet stillness, the beginning of the day. Everything seems simple and unhurried early in the morning, doable. If I wake to a day where the schedule has one to many activities on it, as long as I have some quiet and solitude when I first wake up, somehow all of it is simpler.  If you don't consider yourself a 'morning person', there is still great value in creating your own morning routine, even if it is after sunrise.
All of us have a morning routine or ritual we follow. It is just a question of whether it is one we have intentionally created for ourselves, or a routine that is occurring simply because we don't have a set morning routine or ritual.
I enjoy having intentional mornings with ritual and routine, doing so instills a sense of order in the day before my children are awake and the day naturally becomes busier. During times when I haven't had one, I find that the day 'happens to me'. I wake up at varying times, eat breakfast at different hours of the morning and end up with a more sluggish and disorganized day in general.
If you haven't yet tried waking earlier and incorporating your own intentional morning routine into your day, consider these suggestions-
-Set your alarm to go off 15 minutes earlier. Even if you spend a week just becoming accustomed to lying away for those extra 15 minutes, you will adjust. The second week you can focus on what you are going to do during that extra time or set your alarm to go off another 15 minutes earlier.
-Adjust your bedtime. If you are going to be getting up earlier, it makes sense to go to bed a bit earlier as well. Adjust your bedtime by the amount of time you will be getting up earlier. If you want to wake up 15 minutes earlier, go to bed 15 minutes earlier the night before.
-Look forward to something. It has always been easier for me to begin an earlier morning routine if I have something to look forward to. Whether it is writing, exercise of some kind or reading, having an enjoyable activity to wake up to makes it easier.
-Drink a glass of water first thing in the morning. I adopted this ritual after enjoying Joel Zaslofsky's podcast on morning routines. Many people wake up to a cup of coffee or tea, drinking a glass of water before you ingest anything else will help gradually and gently wake your body instead of jolting it awake.
-Find the inner desire. Any time we set out to make a change, there is some resistance. In the case of waking up earlier, you will be tempted to just hit the snooze button and sleep a little later, or reason that you had a late night so you just can't get up that early, today. In the end, you have to dig down and find that inner desire to make this change. Don't worry, it's there, find it.
These days, establishing a morning routine or adjusting my current one comes easier, as I've had practice in creating and maintaining personal morning routines and rituals for myself over the years. Yes, I do get off track at times and find myself muddling through my mornings for a while, but I am better at recognizing when it is time to buckle down and find the morning routine and stillness again.
Whether you rise before the sun does or after, consider creating an intentional morning routine for yourself. Enjoy a simpler day instead of letting the day simply happen to you.
Do you have a morning routine? If so, tell me about it in the comments!
Photo Credit: Laura Fox