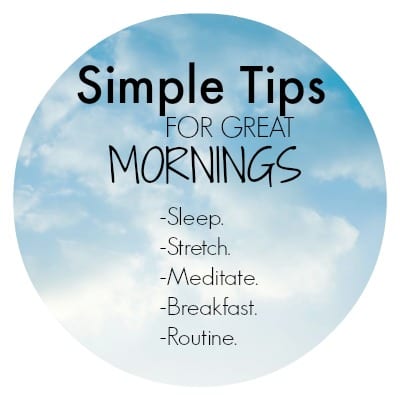 Give yourself the chance to have a satisfying and productive day with these 5 simple tips for starting your morning off great!
---
Get enough sleep.
According to the National Institutes of Health, an astounding 50-70 million people in the U.S. are affected by sleep disorders and chronic sleep problems. One of the best things you can do for your body is to let it rest and recharge at the end of each day. The number of sleep hours needed each night may vary person to person, but the benefits have been proven to lower blood pressure, decrease depression and would save an estimated 100,000 people from drowsy driving related car accidents per year. Give yourself a head start on a great morning by getting enough sleep the night before.
Stretch.
When you wake up each morning, spend five to ten minutes doing simple stretches. The Mayo Clinic says stretching will help increase our body's range of motion and flexibility, making it less likely to have muscle related injuries and spasms. Your body has been lying in a state of stillness for hours when you first wakeup, get the blood flowing to them with these 8 morning stretches provided by Suzanne Bowen.
Meditate.
Start your morning with just 20 minutes of meditation and enjoy the benefits of reduced stress throughout the day, and an increased immunity to general sickness. Whether you are religious or secular, a daily meditation habit has been shown to coincide with a more optimistic outlook on life. Meditate and be happy! Deepak Chopra has wonderful free 21-day meditation courses that are perfect for beginners and even those more experienced with meditation. Give it a try and experience less stress in your day, and a smoother start to your morning.
Eat breakfast.
Sometimes our mornings can feel pretty rushed, and breakfast gets pushed aside, thinking we'll grab something on our way to work. The problem is usually that 'something' we grab isn't a complete meal, or is a packaged breakfast item that doesn't contribute to good health. If you skip breakfast altogether, it leads to fatigue by later morning, and the tendency to start snacking on high carb, high sodium and sugar-laden foods. The Johns Hopkins School of Public Health provides some simple breakfast recipes, or you can try one of my favorite high protein breakfasts from my childhood, Yogurt & Frozen Orange Juice. Spend less than 15 minutes in the morning on a healthy breakfast, and add hours of productivity to your day.
Establish a routine.
One of the best things you can do in the morning is to establish a set routine. You're mind and body will be better prepared to handle the day if you start it with the same set of actions. A morning routine provides you with an anchor of balance at the beginning of the day, so you can better handle the imbalances, stresses and unexpected that will arise throughout the rest of the day. Courtney Carver of BeMoreWithLess has a great micro-course, How To Create A Meaningful Morning Routine, to help you craft your own personal set of habits and rituals to inspire your mornings.
Give yourself the best start to your day possible with these 5 tips. You're body and mind will thank you for it with increased energy, clarity, health and productivity.
If you already have a morning routine, what are some of the things you do to start your day? If you are working on creating one, is there anything in particular holding you back that I can help with?