Today I wanted to post something simple, something that I enjoy doing and do regularly. As I thought about it, I thought why not a post about food? We have to eat everyday, and while fixing food is not my favorite thing to do, I do enjoy the challenge of fixing healthy, simple and quick meals. Below you'll find a day's worth of meals that I think are pretty fabulous!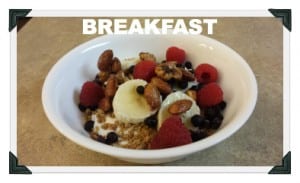 One of my favorite breakfasts is yogurt. It's simple, healthy, quick to prepare and tastes fantastic! It also falls into my 300-calorie range per meal goal for breakfast and lunch, with dinners staying below 600 calories. Below is my favorite way to fix it, based on how my siblings and I grew up eating it in our home, with a couple of changes since I've become an adult. This is one of my children's favorite breakfasts too, the tradition lives on! Enjoy!
Ingredients:
1 6 oz. container plain Greek Yogurt
1 tsp. frozen orange juice
¼ cup Grape-Nuts
2 tbsp. Honey Almonds & Walnuts (or other mixed sweet nuts)
½ cup fresh fruit (I prefer to use a mixture of bananas, strawberries & blueberries)
Directions:
Mix the yogurt and frozen orange juice together first until the orange juice is melted and mixed in. You can also microwave the orange juice for a few seconds if you'd like to speed up the melting process. Top the yogurt and orange juice mixture with the remaining ingredients. Serve!
Nutrition Facts: (these may differ slightly depending on the specific brands of food you use)
Total Per Serving:
Calories: 370      Sodium: 155.5mg     Sugar: 27.8g   Carbs: 49.74g   Protein: 24.4g   Fat: 11.4g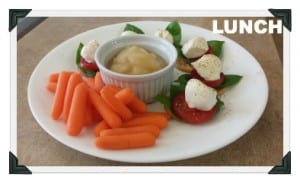 Lunch is a great meal for me. I enjoy the mid-afternoon time of day, it's the most relaxing time of the day to be in the kitchen for me.  I'm not sure why, but it may possibly be my favorite meal of the day. Maybe it is because I fix fairly light lunches so it is quick and easy, but I also have some of my favorite foods most often during this meal. Check out this meal idea for yourself!
Ingredients:
1 bag of baby carrots (approximately 20 baby carrots)
6 multi-grain or whole wheat crackers
2 small tomatoes
6 fresh basil leaves
6 pearls of fresh mozzarella
Table Blend Mrs. Dash
½ cup of unsweetened applesauce
Directions:
Slice your tomatoes into six rings. Wash and pat dry your basil leaves. Top your crackers with the basil, then tomato, then cheese pearl. Sprinkle Mrs. Dash over the top. Plate your creation and add your baby carrots and applesauce on the side!
Nutrition Facts: (these may differ slightly depending on the specific brands of food you use)
Total Per Serving:
Calories: 360      Sodium: 466mg     Sugar: 22.5g   Carbs: 42.8g   Protein: 17.5g   Fat: 15.1g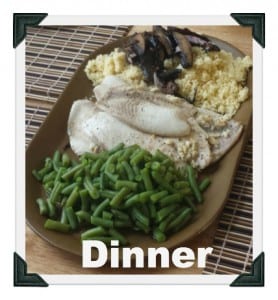 Dinner is simple and quick in our house. By 6:30 in the evening, the kids are finishing up homework, my husband is getting home and we are all hungry and ready to settle down for the evening. Instead of spending hours in the kitchen, I choose to plan very simple dinners that include only three items, a protein, carb and vegetable. I generally don't use anything boxed, however, I have found several brands of couscous and quinoa that are very nutritious with organic ingredients and low sodium available in boxed varieties. I've outlined one of our main meals below.
Ingredients:
Fresh tilapia filets
2 tbsp. honey
1 Lime
2 cloves of garlic, minced
3 tbsp. Olive oil
Salt and Pepper
Fresh or frozen green beans
Portobella mushrooms (optional)
Directions:
Turn oven to 400 degrees, or to broil and let heat. Wash and pat dry the tilapia filets with a paper towel. Mix the honey, lime and minced garlic together in a bowl with 2 tbsp. of the olive oil. Place the tilapia on a foil lined baking sheet and top each fish with the honey lime mixture. Sprinkle salt and pepper on top.   On the same baking sheet, place the portabella mushrooms upside down around the fish filets. Drizzle the mushrooms with remaining olive oil and sprinkle with salt and pepper.
Prepare the couscous as instructed on the box. While the couscous is cooking, put the fish and mushrooms in the oven and broil/bake until the fish is white and flaky, and the mushrooms are tender, about 7-8 minutes. Depending on whether you are using fresh or frozen green beans, you may want to start steaming fresh veggies before you start the fish, if using frozen, cook them last while the fish and couscous is cooking.
Nutrition Facts: (these may differ slightly depending on the specific brands of food you use)
Total Per Serving:
Calories: 503      Sodium: 561mg     Sugar: 13.2g   Carbs: 60.6g   Protein: 33.1g   Fat: 13.4g