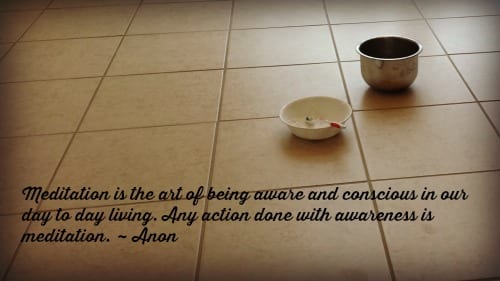 As I was sitting on the floor scrubbing the grout this morning in the kitchen, my mind wandered to how my daily cleaning project has served as some great morning meditation time.
Each morning after the kids are gone for school, I get out an old toothbrush and a bowl of baking soda and take to the kitchen tile, scrubbing about 5-8 tiles a day.  We moved into this rental a few months ago, and they must have forgotten about cleaning the tile, the grout was a really dark brownish black instead of a light sandy grey color.
I usually spend about 30 minutes down on the floor, scrubbing with the toothbrush, dipping it into the bowl of baking soda, and scrubbing some more, dipping, scrubbing.
The methodical, mindless brushing is relaxing to my mind and allows for some great 'unthinking' time. Looking at my progress when I'm done gives me a sense of completion and fulfillment, and strangely, inner peace with which to face the rest of the day.
I realized I have always been this way when it comes to meditation. I don't know that I could be the person who sits in lotus pose reciting a mantra (I've never tried though). My natural inclination towards meditation is to be doing something slightly active and rhythmical in the quiet.
What about you? Do you have a set ritual or some natural way that you gravitate towards when you are doing quiet meditation?