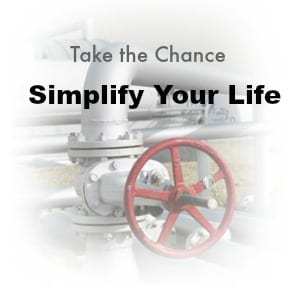 "Maybe it wasn't the 'brain cloud' that was killing Joe after all, but his fear of what would happen if he opened or closed the main drain. Sometimes you've just got to take the chance."
What would happen if you took a chance at simplifying your life?  Maybe you and Joe have more in common than you think.
---
Anyone who is around me for more than a day or two is bound to hear a reference to Joe Vs. the Volcano slip out. I've got to say, I love that movie! I love analogies just as much, and that movie is chock full of them. Plus, how can you go wrong with Meg Ryan and Tom Hanks?
We'll come back to Joe, but for now let's talk simplicity and why you should take a chance at simplifying your life. Lots of people know they want a simpler life and that they and their families would benefit from it, yet they have a myriad of reasons why they just can't take action.
Why is it that the thought of simplifying life can make you feel stressed and cause apprehension when you think about getting started?
-You look around and realize you have A LOT of stuff.
-Your immediate family members aren't on board with the idea.
-You are overwhelmed with life already, you can't handle another thing.
-You are afraid of what other people will think.
-You don't know where or how to get started.
Let's take a look at each one of these reasons for inaction and see if we can get past them-
You own a lot of things. Nowadays most people do. It's what we've been taught to do in our society and has become a cultural expectation. We're even told it's our responsibility to buy, buy, buy, to help the economy function at optimum levels. Maybe you don't want to get rid of items because they cost you money, and money is time you've spent working. Or you think you will use them at some point in life, just not now. You could be ready to get rid of items but are overwhelmed with where to start. If any of these are the case, I've got some additional great reading to help you get past those reasons and start simplifying.
Letting Go of My Alternate Personality & Her Belongings
How to stop feeling overwhelmed and start simplifying.
What if your family members don't want to simplify? We're all familiar with the following quote –
[tweetthis]Actions speak louder than words.[/tweetthis]
This advice holds true in every area of life, including simplifying. You can't control others, and the more you try, the more push back you will receive. My guess is most of us have plenty of personal belongings and commitments, bad relationships and unhealthy habits we can focus on simplifying without adding nagging others to the list. Focus on yourself first, that will keep you busy for quite a while, and many times your close family members will follow your example when they start seeing the benefits in your life.
For more suggestions, read Tips for Living with Non-Minimalists.
You're feeling overwhelmed in life. You're probably tired, not getting enough sleep and over committed. Your days might feel like a blur of time, kind of like you are living in a constant dream, just trying to get through each day so you can start the next. This is no way to live life. You want to be in control, not let life control you. If this is where you are, it needs to change. I would strongly suggest starting with one of the following-
-Getting more sleep
-15 minutes a day of 'you time', scheduled.
-10 minutes a day of walking outside, scheduled.
-Establishing a morning routine
Once you've carved out a little more time for yourself, even if it's just a few minutes each day, you can start using that time for taking steps towards simplifying life.
You're afraid of what your extended family, friends or neighbors will think about you. Welcome to the grown-up version of the high school popularity contest, called keepin' up with the Joneses. It can be difficult and awkward at times when you explain to friends and extended family why you are getting rid of things, not purchasing that brand new car or why you only have one set of dishes instead of three. The good news is, these people don't live with you on a daily, intimate basis, so the awkwardness will be temporary. Most people can see the value in simplifying, and while there may be some good natured joking about your new outlook on life, most of them will appreciate and respect your views. The areas that seem to cause the most distress when interacting with family and friends in regard to simplifying are on gift giving occasions like birthdays and Christmas. The following articles offer some guidance-
When Family Keep Buying You Stuff
You aren't sure how to get started simplifying. Looking around your home can cause some overwhelm when you realize just how much stuff you own. Or you may see piles of mail that need to be taken care of, children's toys underfoot and everywhere, or so much furniture you are living in an obstacle course. Add on to that lack of time and energy to do anything about it, and you can quickly feel like you just don't know where or how to begin simplifying. The great thing about the minimalist and simple living community is how supportive and positive everyone is. As you get started, you will find a lot of resources and help to keep you on track. Most simple living advocates, myself included, suggest that you start with decluttering your home. Taking just a few minutes a day, or blocking off some time on the weekend to do some decluttering will help you get started, and as you are able to see immediate visual results and benefits of clear space, the momentum will increase and keep you motivated.
Check out my Decluttering 101 series of posts to help you get started.
If you really want to get serious about it, subscribe for helpful emails and get this free bundle of Decluttering Worksheets.
---
With the initial fears and reasons for not taking action and simplifying addressed, let's get back to Joe. He's feeling stuck in his life, the same thing over and over day in and day out, no end in sight. Until he's faced with death…then he finds the strength to take a chance…the chance he's wanted to take for years, but just couldn't-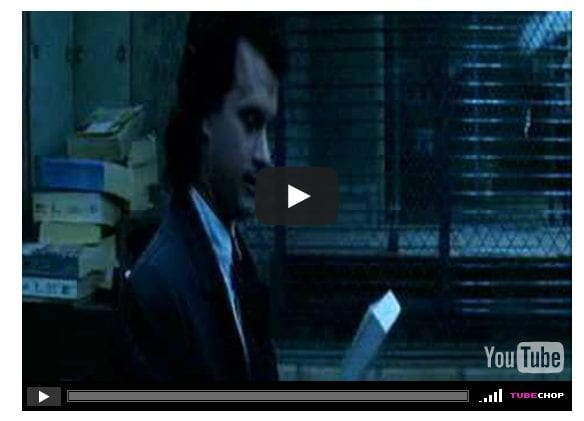 The best part about this segment is that when Joe finally gets up the courage to turn that valve, nothing happens.  He had been waiting so long for just the right moment, and when he finally did it he figured out the anticipation or uncertainty about it was something he had built up in his own mind.  Despite the outcome, he learned a valuable lesson. Sometimes you just need to take action and do the thing you're afraid of doing. Most of us aren't faced with the prospect of imminent death like Joe was to propel us into motion, but let's be realistic, life WILL end some day for each of us. Do we want to get there and realize we didn't live life on our terms? That life controlled us? That we were too scared of turning that valve and finding out what would happen?  Would you like a simpler life, but are waiting for just the right time?  Stop waiting.
Simplifying life to include what REALLY matters to you is the key to living life to the fullest.  
We looked at the reasons why getting started simplifying might cause some stress to think about, now let's look at the reasons why it's worth the effort and how it will remove the stress long-term and change your life. I wanted to take this to a personal level, so let me tell you face-to-face how simplifying my life has changed everything for me and my family.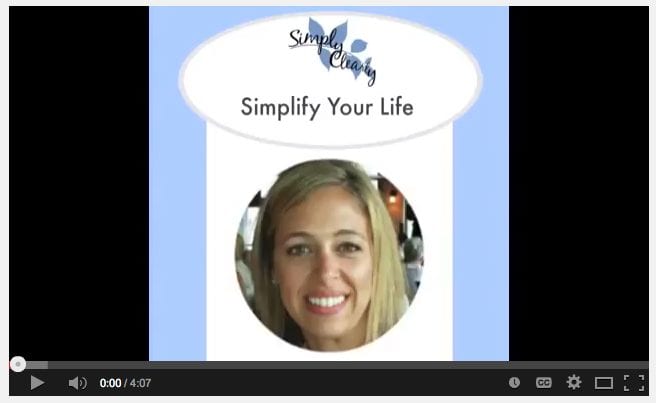 If you've made it this far through my post, you are probably thinking there might be something to this simplifying idea. I truly hope so.  There are lots of 'good things' in life, but not enough time for everything. You have to choose and simplify life to include what matters most to you.
Just in case you are still trying to decide if a simpler life is for you, here are the benefits again that I hope you saw in my video, plus a few more I didn't even mention!
-More time.  When you rid yourself of extra stuff, extra commitments, over busyness, activities that aren't providing enough value and bad habits in general, you end up with more time.  It's an inevitable benefit of simplifying.

-Better health.  Simplifying meals goes hand in hand with using fresh, whole ingredients and simple recipes.  In the end you have less time spent in the kitchen with healthier results to show for it.

-Deeper relationships.  Assuming you will use some of your extra time to do more things with those closest to you, simplifying should result in building deeper relationships with those you love.

-More experiences.  Choosing between buying the latest electronic gadget, newest purse or collecting experiences through travel, spending time with loved ones or something as simple as reading a book will be an easy choice,  experiences will become far more valuable that a physical item.

-More money.  Depending on how often you currently binge shop, go out to dinner, grab a latte' and how much you spend on birthdays and Christmas, you could end up saving a nice amount of money. 

-Clean home.  One of the most talked about and beneficial parts of decluttering and simplifying life, a clean home becomes an everyday occurrence when you live simply.  It's not that you don't have what you love and use, it's that you have ONLY what you love and use, which for most of us ends up being very few items.

---
If you've made the decision that you'd like to get started simplifying life and living it to it's fullest potential, based on what YOU think that should be, I can help! One of the things that is so inspiring in the simple living community is the support and positivity that everyone provides for each other. Each person is on their own journey towards simplifying, and we are all here to help. I've created some great resources to help you a long the way, but I would recommend the following guide to help you get started.
Getting Started with Minimalism is an 18-page guide filled with the following information-
What is simple living or minimalism?
Why live a simpler life?
Minimalism: The ideal lifestyle.
Getting started.
Decluttering worksheets for possessions and commitments.
How to stay motivated.
Living with non-minimalists.
Additional resources. (Websites, Books, Forms)
Download the Getting Started with Minimalism Guide
This guide is free and a gift to you from me, in hopes that you will start simplifying your life and see the many benefits it provides.
One last note about Joe. He took his chances with the main drain, even though people around him thought he was doing something dangerous, out of the norm, daring!  What he found was that in life, it doesn't really matter what happens WHEN you open the drain, what matters is IF you open the drain. Maybe I'm reading too much into that movie (I admit this is slightly possible), but, I think it's telling you to take your chances with simplifying life.  See if you find the same benefit that thousands of others have by letting go of clutter, possessions, an over worked and over busy life and finding out what happens when you focus on the truly important.