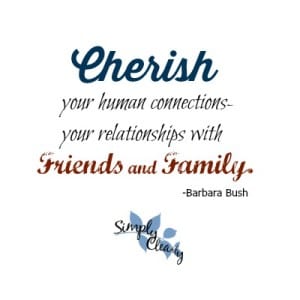 What do you do if your family keeps buying stuff for you or your children, even after you've had the heart to heart talk with them about how you are trying to simplify your life and have less clutter around the house? What if you've given them ideas of what gifts you would appreciate when they have asked, but they keep giving you random items that you know have no place in your life?
These questions were recently posed to me by a friend, this post is for her, and for anyone else who struggles with family or friends who insist on showing their love by purchasing you or your children, stuff.
-Always say thank you.  Gifts given by a friend or loved one should always be met with gratitude, even amidst feelings of frustration or annoyance at the gift given or the seeming lack of respect by the giver if you've let them know you don't want physical gifts.
-It's the thought that counts.  Along with gratitude, try to look at the underlying reason for the gift being given. Is it to celebrate a special occasion, such as a birthday? Or maybe to express gratitude for something you had done for them? Remember that the gift is an expression of their love that perhaps they aren't comfortable expressing verbally or in physical affection. When we give gifts, we are usually saying, "I am glad that you are alive and here with me, that I know you and care about you and that you are part of my life", this can be difficult for many people to say aloud.
-Don't feel obligated to keep the item.  This perhaps, is one of the hardest parts for people who would like to declutter, but are concerned about getting rid of gifts from others that aren't being used or don't suit their lifestyle. The guilt associated with donating gifts from others can be a big barrier for some. These gifts could include a sweater you received for Christmas, toys given to your kids by well-meaning friends and family that aren't being played with, or even items that people just give to you throughout the year that they think you will be able to use, or clothing your kids will 'grow into'.
If this is an ongoing issue in your home, keep a permanent 'Donate' bin somewhere in your home, mine is in the garage, where you can immediately move all of these items as soon as possible. Out of sight, out of mind is a big help here and will mentally help you move closer to getting rid of the items without as much guilt.
-What will you say if they notice it's gone?  Not knowing how you will respond should someone notice that you haven't worn that sweater they gave you in a while, or the toy they gave your child is nowhere to be found, is a large part of what makes people keep things around they don't use. Coming up with appropriate responses to these questions before they come up will make getting rid of gift items much easier. Some appropriate responses might include-
"I really appreciated the gift, but I wasn't using it as often as I know someone else would have, so I decided to (donate it, re-gift it, give it to so and so)."
"I wore it a couple of times but it just didn't end up being a great fit, so I let it go with some other items to a local charity."
"I always appreciate that you think about the kids and what might be fun for them to play with, but they weren't really playing with X toy, so we decided to gift it to (other kids, their classroom, a local daycare, homeless shelter) so it would be used.
"I love that you are always thinking of me, but I've really been trying to pare down my possessions, and that was one of the things that I just didn't end up using very often, so I let it go."
-Worst-case scenario.  What if they get mad at you and angry that you got rid of their gift? What if they are offended and become defensive at your response to why the gift is gone? This could still happen, even if you have previously had the conversation about simplifying your life and possessions. If you have someone in your life that you know could be sensitive in this way, it is best to brace for another firm declaration of where you stand.
Start by saying how much you appreciate their thoughtfulness, and that you understand their gift giving is simply their way of expressing their love for you, however, their love isn't contained in the gift and you would much rather spend time with them, go to lunch or have them come over and spend the afternoon playing with the kids, instead of receiving a physical gift, since you are wanting to simplify your possessions.
Be sure to tell them as many times as possible that they are what is important to you, and if they want to give gifts, you appreciate that, but please be aware that if you don't end up using the gifts, you may give them to a new home. Most family members will be respectful of your feelings and try to accommodate your new vision for simplicity, but you may just need to be firm with some family members until they really grasp your seriousness on that matter.
It is natural to not want to make those we love feel bad about giving a gift as an expression of their love, however, if we consider that expressing our love in that way is largely a cultural expectation and learned behavior, we also realize that the expectation can be changed by having heart-felt conversations with those we love and living by example in our everyday lives. When family members see that you are serious about simplifying, most of them will change their way of gift giving because they do really want you to like the gifts they give.  Patience is always key.