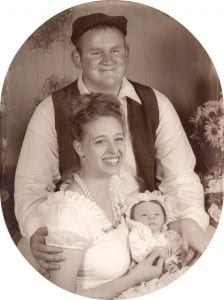 This is a topic brought up again and again by those who love the idea of living a simpler, more minimal lifestyle, but have a significant other, spouse or even a child who has a difficult time parting with belongings. While my husband is not someone who gets overly attached to keeping things, he did resist my minimalism for a while. Here are some lessons I learned that have made it much easier on both of us when it comes to simplifying and getting rid of items we no longer are using.
– Focus on your belongings first. When I first start reading about minimizing, I did so for several months, then quietly just started going through my personal items. Clothing, shoes, books, magazines, jewelry, old letters, paperwork, makeup and hair products, and personal décor on my desk. Those things alone took me quite a while and I ended up with a significant pile to haul to the Goodwill. My husband was impressed with how much I was getting rid of, as it was much easier for him to see what I didn't need, then it was for him to think about going through his own possessions. I let him know if he had anything he wanted to get rid of, feel free to throw it in the pile and I'd take it with me. That was all I said. I think he put in a shirt or two.
– Ask permission, set boundaries. After I went through ALL of my personal belongings, and I seriously mean EVERYTHING, I was getting excited and wanted to dive right in to everything else in our home, but, I chose to go a little slower. I focused on cleaning out areas that I knew wouldn't cause any issues, like out grown children's clothing, duplicate cleaning supplies, random items in our 'junk' drawer, canned and dry food that was about to expire or already expired and old threadbare towels, sheets and blankets. My husband was really concerned that I would start going through our kitchen appliances and cooking tools and get rid of things without telling him, so I let him know that I would consider all kitchen items off limits without first discussing it with him. That put him more at ease and he willingly went through his desk drawer and donated a bit more to my next donation pile.
– Get the kids on board. My kids are a bit older, but still young enough that they think the world of me and want to be involved in whatever I 'm doing. This worked in my favor when it came to minimizing, as I was able to focus on helping them with their belongings next. One of the cardinal rules of minimizing is that you NEVER get rid of things that don't belong to you, even things that are your children's. Part of minimizing is the emotional and mental aspect of learning to 'let it go', which won't happen if you get rid of something without asking. I went through each of my children's toy boxes with them, and they excitedly threw out most of their broken toys on their own, along with the odds and ends that always end up at the bottom of the box. This also helped my husband as he started to see how refreshing the additional space was that he was seeing all over the house as we were clearing out more and more. I started keeping a permanent donation box outside our front door to put items in, and I found a bunch of his clothes and shoes in it one day.
– Get rid of duplicates. I finally wanted to start cleaning out the kitchen, but since my husband loves to cook, that was a touchy area. I started by focusing on duplicate items we had and asking him with each one if it was okay to donate. We had two crockpots, at least 5 bowl scrapers, a whole set of metal serving utensils we never used because they would scratch our pans. As I took the time to actually set the items out so we could see them and think about how often we actually used them, it was much easier to make the decision to get rid of them. One of the easier ways to change our thinking was to realize that if we weren't going to use the item, someone else would, and it was the responsible thing to do to donate it so it could be used. We still didn't end up getting rid of very many kitchen items, I'm still working on that, but it's much better.
– Make getting rid of things a habit. I always have a donation pile in the garage these days. Surprisingly, I am still finding things to donate that I thought I would REALLY use when I pulled them out six months ago, but still haven't touched them. I use my donation box as a 'think about it' box as well. If I'm just not sure about an item, I throw it in anyway and let it sit until I'm ready to take in the donations. If I haven't even thought about the item since I put it in the box, I usually just leave it in there. I have rarely taken anything out of the box to keep. As my husband has seen me freely get rid of things that I am just not using, it has been amazing, he has felt more at ease to get rid of his belongings too and regularly throws things in the box.
Personally, I think people in general crave a clean, minimal environment. When we look at homes to purchase, the most appealing ones are usually pretty bare with clear surfaces. We enjoy museums with their large open space and selective items out on display. Store displays are more attractive when products are evenly spaced and orderly, and everyone loves the 'new car smell' when your vehicle has been freshly cleaned, cleared of everything that has been collected inside and is empty. Consider natural outdoor areas as well. So many people, myself included, are attracted to camping, hiking, or spending the day at a park to refresh themselves in the simple, natural surroundings without all the 'extras' we stuff into our homes and lives. If you get started simplifying by focusing on your own 'stuff' and setting a good example without nagging your other family members, you have a much better chance of them seeing and feeling the benefits and getting on board with the idea of simplifying and minimizing your home.
For more articles on how to declutter when you're the only willing participant, check out these posts from some of my favorite minimalist bloggers-
How to Find Peace Living With a Packrat
Simplicity When Your Spouse Doesn't Get It
Dealing with OPC (Other People's Clutter)