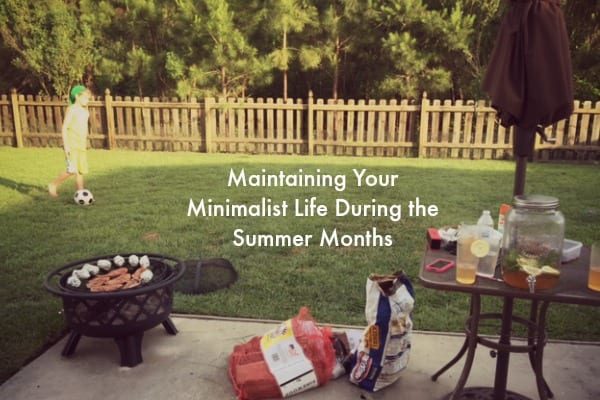 Summer is in full swing at my house here in Georgia, and for those who read SimplyClearly on a regular basis; you may have noticed a lack of new content on the blog, and even a pause in my weekly emails to you. I wasn't planning on taking a break, but with the kids out of school, it just kind of happened on its own.
Between my writing here, working, and with the kids out of school, I am feeling a bit swamped. So, in the spirit of living intentionally and focusing on what is most important, I am going to be stepping back a bit until the end of August.
I'll be trying to post at least once a week and resume my weekly emails to everyone, but I have a feeling this summer is going to find me going 'minimalist' on the blog for the most part.
With all of that being said, I would like to offer up some tips this week on how to maintain your intentional and minimalist lifestyle specifically during the summer months, when it seems like regular routines can falter and more stuff gets accumulated and scattered throughout the house, simply because everyone is home more, children are playing non-stop and vacations or activities seem to be around every corner.
Consider these ideas to help get you through the summer months without the need to declutter, detox and deschedule your life again once fall is here.
-Don't commit to long-term activities.
This summer, I signed all three of my children up for various two and three day camps. From soccer, to baseball, math camp and to finishing school for my daughter, there is a lot of fun going on! However, all of these camps offer some type of long-term membership or program you are offered once you are done with the initial summer program.
Don't commit to the long-term program unless it is something your child is already involved with. Even if they offer you a discount if you sign up right then, don't do it. Wait until the end of the summer to decide if it is something you really want to commit to, and chances are they will offer the same discount as a going back to school price.
-Avoid too many trips.
Summer vacations with the family can be a great time to relax, connect and enjoy each others company, but when you have too many trips planned away from home, the travel can get tiring, the expenses too large and the packing and unpacking becomes a dreaded burden.
Try planning one or two longer trips, ideally one at the beginning and one at the end of the summer, and spend the in between time taking staycations around your area. Explore some new hiking trails, go biking as a family and bring a picnic lunch, take a day trip to a nearby town or just order some pizza and hang out in the backyard with some music and the sprinklers on.
-Stay away from extra summer supplies and unhealthy food purchases.
It seems as soon as the weather warms up, you can find displays in almost every store featuring foldable chairs, beach towels, umbrellas, coolers of all sizes, ice packs, soda, chips, hats, water guns, pool noodles, barbecue supplies and here in Georgia, fireworks. Keep in mind that summer is usually just 8 weeks long with the kiddos out of school; do you really NEED to purchase all these extra supplies for 56 days of use? Not to mention most summer food is extremely unhealthy, featuring hotdogs, chips, soda, burgers and ice cream pops.
While it may be fun to have a few evenings of picnic type foods or grilling with the kids running around with sparklers, don't make it a regular occurrence, which will just result in having to wean yourself and your children off of all the junk food when it's time to return to school in the fall.
-Keep to a schedule.
During the summer, we implement a different schedule than during the school year. It is definitely more flexible with a lot of 'free' time included, but we still have definite times outlined for: Waking up, Meals, Chores, Electronic Time, Going to Bed and Family Activity Time. Other than those times, the day is pretty much open. Our children were pretty dismayed to find out they would still be required to be awake before 9am and go to bed by 9:30pm, but, overall it is working out well and ensures that some of us aren't sleeping until 11am, while others are up at 6am, (directed towards my 12 year old and 8 year old, in that order.)
Having a summer schedule also helps me keep track of how much time my children are spending on video games, TV shows and the computer. Blocking time out specifically for those activities helps keep them under control and doesn't leave me wondering at the end of the day how long they were actually playing Minecraft or watching Saved By the Bell episodes.
The tips above will help keep you from accumulating unnecessary items and activities, but what will you do in the mean time? Coming up with fun activities for everyone in the family that are on the minimal, less-expensive side can be difficult.
20 Simple Summer Activities
Check out this list of 20 great summer activities, whether you have kids, are single, or have a significant other, they are low-cost or no-cost outings that provide plenty of opportunity for conversation and fun.
-Take a bike ride.
-Go hiking or fishing.
-Visit a local park.
-Take a day trip to a nearby town.
-Go camping.
-Go on a picnic.
-Check local movie theaters for summer specials and kid's movie days.
-If your city has a university or community college, check their schedule for free presentations.
-Check out your city's calendar of events for the summer.
-Invite your neighbors over for a barbecue.
-Go for evening walks.
-Have a water fight.
-Hold a garage sale.
-Take your kids to free classes at Michael's, The Home Depot, Barnes & Noble or    Whole Foods.
-Check in with your local library for children's summer activities.
-Join a local book club or walking/running group.
-Plant a garden.
-Hold a game night with friends and family.
-Visit a local nursing home and play checkers with the residents.
-Sign up for classes for a new hobby: cooking, sewing, gardening, carpentry, drawing or writing to name a few.
Whatever your plans are this summer, remember they don't have to be elaborate or costly, many times simpler is better. Some of my best memories during my childhood are of lazy days just playing in the warm summer sun outside with my siblings, or taking a walk on a dirt road with my parents. Make your summer memorable, and minimal this year!