It is refreshing to see the popularity of capsule wardrobes increasing. Not only is it an easier way to look stylish and put together, but also much more affordable for the person on an average income. One of the biggest benefits is that it can also become the first step towards a simpler lifestyle.
Tackling my closet and creating a capsule wardrobe was one of the first things I did when I became a minimalist, after getting rid of my towels. I've never been one of those girls who loved shopping for clothes and shoes; and I was not gifted with the ability to match colors, patterns or accessories very easily. Getting dressed and trying to look nice was always a stressful chore. The capsule wardrobe was perfect for me!
So, one day, I got rid of over half of my clothing. Everything that didn't fit comfortably, anything I was holding onto in the hopes of fitting into again, items that made me feel frumpy or that I hadn't worn in months, or a year! I was ruthless. I tossed it all into a bag for donation.
Immediately I started experiencing the benefits that everyone talks about-
-I had less laundry to do.
-I had fewer clothes to choose from, so less stress with decision-making.
-No dry cleaning costs (or Dryel costs, we were already too cheap to pay for professional dry cleaning)
But I still had a problem.
Even though I had gotten rid of tons of clothing, I still had very little to wear that actually matched. Sure, I had reduced my items and clothing to what I liked, but not many of the pieces looked good together. I would go out shopping to try and find clothes that would make a nice outfit, only to get frustrated that my closet was filling back up. Luckily, I stumbled onto the concept of a capsule wardrobe pretty quickly.
The ideas made sense to me, and they were so much easier than dealing with all the stress I associated with shopping for clothes and trying to look nice each day. I started implementing them immediately. I don't keep a count of my clothing items, but I know at one point I had 23 pieces between tops and bottoms. It's probably still fairly close to that number.
What I do faithfully is use the 'one in, one out' rule. If I see a new piece of clothing I would like to bring into my wardrobe, I choose which item is leaving first, many times that deters me from making a purchase I didn't like as much as I thought.
7 tips for starting and keeping a successful capsule wardrobe-
-Stick with solid tops.
Having mostly solid tops in your capsule wardrobe allows you the freedom to pair them with any of your bottoms, as well as the ease of completely changing your look by layering and using different accessories.
-Three tops for every bottom.
This is just what works best for me and helps me keep my wardrobe size in check. Since I rarely have over four pairs of pants or shorts, it keeps my tops limited to 12-15 pieces.
-Use layering to change your look.
Instead of having so many core pieces (tops and bottoms), make sure you keep a few cardigans, light jackets or vests for layering purposes. Not to mention this will make using your wardrobe with any season an easy switch.
-Use a color palette while shopping.
If you are like me and have little style and color matching ability, stop by the paint department in your local store and grab a few palette cards with colors that look nice on you. When you're out shopping, make sure your pieces match the card colors and you won't have to worry about whether that new top will match your jacket!
-Pay attention to fabric types.
It took me a while to realize that a big reason why I didn't wear many of my clothes was not because I didn't like the style or color, it was the feel of the fabric. I prefer very soft cotton, or Lyocell and Rayon type fabrics against my skin. I would purchase cute clothing and never wear them because they didn't 'feel right'.
-Buy classic clothing pieces.
Trends come and go with the seasons, and it can make you crazy and get you in debt trying to keep up with all the latest fashion styles. Do yourself a favor and skip it completely. Purchase clothing for your capsule that are timeless pieces and won't go out of style, at least not before they are worn out.
-Accessorize.
Accessories are your best friends when you have a capsule wardrobe. Switching out scarves, earrings, necklaces, bangles, sunglasses and hair jewelry takes your outfit from casual to dressy and back in a second. Don't feel like you need to have a bunch of different accessories to choose from. A few of each item will do nicely.
A few words about shoes…
Some people include shoes in their count of clothing within a capsule wardrobe. I do not. That being said, I only own 9 pairs of shoes, so I don't have an excessive amount to begin with. I think you will naturally find as you pare down your clothing choices, that your shoes go with them. You will end up with only those pairs of shoes that you wear regularly and go with the majority of clothing in your capsule wardrobe. Right now, my shoes consist of-
-One pair of running shoes
-One pair of 'house' shoes because I need extra support for my back on the tile
-Three pairs of summer sandals (silver, gold and crochet)
-One pair of beach/pool sandals
-Three pairs of boots (varying types for fall and winter)
Now, for the moment every woman loves when reading other people's posts about capsule wardrobes, a few pictures to demonstrate my own wardrobe choices. Just for laughs, I've included a few before pictures so you can see how truly style challenged I have been at times throughout my life, and how a capsule wardrobe has saved me.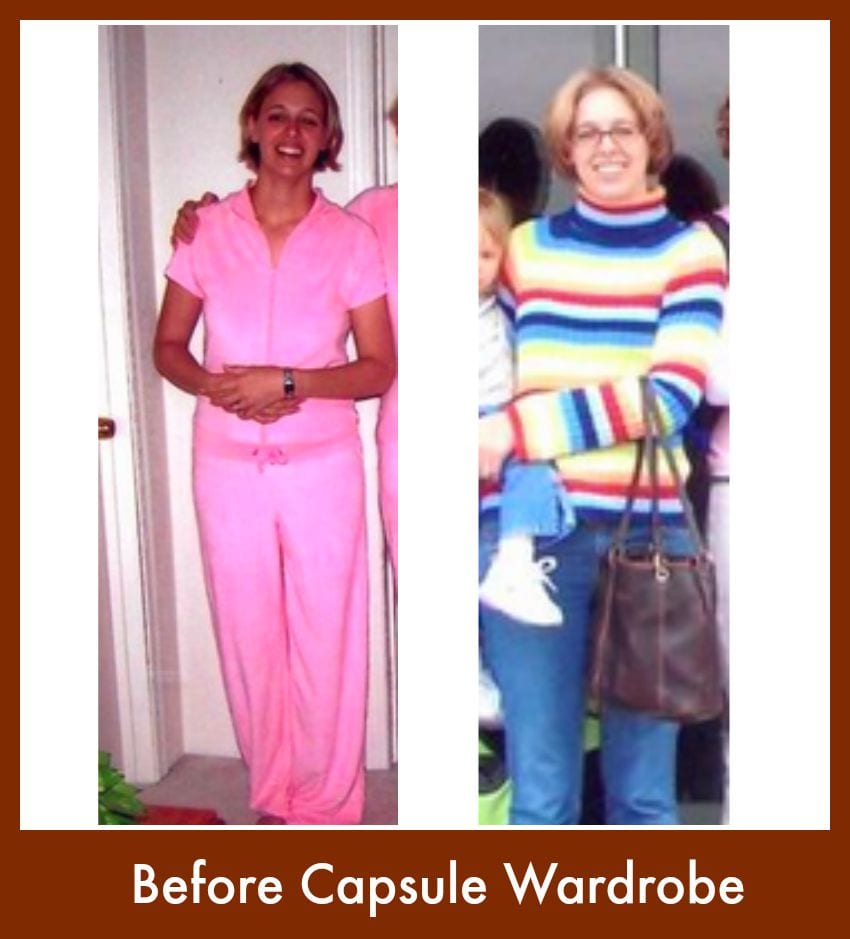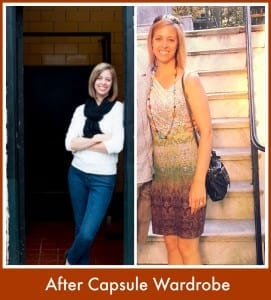 Main Pieces of Current Capsule Wardrobe (Fall):
Parting thoughts-
A couple of my original fears when starting my capsule wardrobe included worrying that people would notice I was wearing the same clothing more often or that I wasn't changing with the latest fashion 'trends'. Looking back now, I smile and wonder who I thought would have the time to actually keep track of my outfits and make note of what I was wearing daily. If someone really did, that says more about their priorities than about me. I'm here to tell you not to worry about what other people think about your clothing choices.
What I do hope has happened is that I have convinced you of the freedom and simplicity that will come into your life through utilizing a capsule wardrobe. If not, I'll defer to those with more expertise than myself to convince you otherwise.
[contentblock id=7]