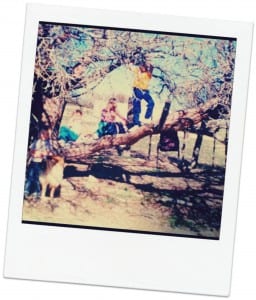 My childhood was filled with lots of imagination, exploration and innovation. I grew up out in the Mojave Desert, surrounded by open space, dirt, lots of cacti and rocks. My four siblings and myself made forts, rock houses, chased horned toads, made ant farms in glass jars, learned the dangers of snakes and scorpions, were fascinated by flash floods and monsoon storms. We made kites out of plastic shopping bags; wind sails out of sheets and played at the deserted corral nearby. I can't say enough about how I enjoyed so many imaginative, out of the ordinary activities we came up with as five kids living in the middle of the desert.
Much of our imaginative play came from my mother sending the five of us outside, most likely to relieve her from the constant noise and movement, considering we were also homeschooled, so we were home all day everyday. Once outside, we had to get creative, or risk being bored. Looking back, those are some of my favorite memories of my childhood. We lived life at a slower pace, living so far out of the nearest town, we had our lessons in the morning, and then we were sent outside to find something to do. I have wished many times for the same type of childhood for my own children. Maybe not characterized by living out in the desert, but at least filled with the same type of imaginative play. It seems to be a bit more difficult to provide that setting for them, as we can't all live out in the desert surrounded by acres of empty land.
So, I was pretty excited when we moved to Georgia and my kids now have the opportunity to play outside in an undeveloped area around our house. Maybe they inherited it from me, but more likely it is a natural childhood phenomenon, that they immediately went to work, or play, creating their own imaginative childhood memories. It has been interesting to watch as they shifted from playing video games (their main form of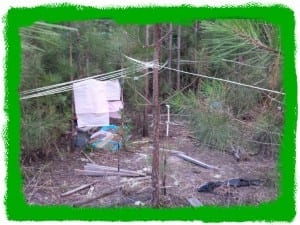 entertainment while we lived in a tiny apartment in New York), to voluntarily shutting them off and going outside, riding their bikes, finding new trails to explore, and eventually enlisting all the kids in the neighborhood to create a house/store/fort in the area behind our back yard. What I have come to realize is that kids naturally want to imagine, explore and create. We don't have to be living in a desert for them to reap the same kind of benefits that I did from my childhood, they just need to be 'left to their own devices, aka childhood' and supervised from a distance while they use their surroundings to create their own worlds.
As I have continued to look back on my childhood, and compare my children's ongoing childhood, I have realized that there seems to have been a shift towards filling our children's time with 'constructive' activities, instead of allowing them the freedom to just play. When I was a child, we had one season where my mother signed 3 of us up for soccer and baseball. We were gone almost every single night it seemed, got home late after games and were very busy. It wore my mom out to the point where we never did it again! She may have signed my older brother up for soccer a few more times, but not all of us. Over the years, I have signed my children up for various extra-curricular activities including gymnastics, dance, horseback riding lessons, art classes, Tae Kwon Do, baseball, soccer and swimming lessons. I'm not about to say that kids shouldn't be involved in extra character building sports and activities. It is just when they are involved in so many of them that they no longer have time for free play, that it seems like they start to suffer rather than benefit from them. This summer, I haven't signed my kids up for one single lesson or activity, partly because we moved during signup season, but, also because I just wanted them to play, imagine and create, the whole summer.
Right now I am rereading the book 'Simplicity Parenting' by Kim John Payne and Lisa Ross (book review coming soon). I love this book and the ideas and suggestions they give for creating a simpler childhood that is filled with less stress for children which provides a healthier, more natural learning environment for them. They advocate a childhood filled with a simple daily rhythm, without heavy exposure to things like world news, finances and other concerns reserved for adults for the most part, so they can develop the natural creativity and abilities they have without fear, which in turn will allow them to make a larger contribution to the world and society when they reach adulthood. Reading the book has caused me to think about how I am raising my children, and what my husband and I expose them to. It has helped us to step back and realize that childhood is process, very temporary, but so important in our children's development, and should be treated with respect and a type of reverence.
I like to think of childhood as a piece of art, maybe one of those interesting abstract pieces with what seem like just bright, random colors, thick and thin lines, bumpy paint splatters and pieces of foam, foil or tissue stuck in wads to the canvas. The end result is always a masterpiece to the creator. When viewed a long those lines, there is an endless combination of experiences and environments we can provide for our children to create their own childhood masterpieces, something they will look back on fondly and hope for the same for their own children. As I have taken the time to think about the 'materials' I would like to provide for my children to create their own childhood masterpieces, I have come to the conclusion that no matter where we live, there are some 'materials' that are (or should be) available to all of our children-
Imagination– One thing I learned while we were living in our tiny apartment in New York, and I allowed the kids a lot more time each day watching TV and playing video games, is that natural imagination is stifled when kids don't create their own 'worlds' to exist and play in. Watching TV and playing Wii and PlayStation games, they would take on the characters of the people they saw. iCarly, Wizards of Waverly Place, Zoey 101 Phineas and Ferb, Skylanders, Link from Zelda, Mario and Luigi, you name it, my kid's probably adopted some of the character traits, thankfully only temporarily. Our normally sweet daughter started talking like Carly at one point, in her sarcastic tone and remarks to her brothers and her dad and me, and that was the end of watching that show. One of my boys wanted to officially change their name to Link when they grew up. Not all TV and video game characters are bad examples for kids, but it does take away some of their capacity for discovering their true personality on their own, without the influence of the media. Imagination allows true creativity to show up, without being tainted by outside influences. Now that we are living in an area where the kids are able to have a bit more personal space, both inside and outside, I have seen their natural imaginations allow them to create the most amazing games, conversations and toys. At one point we found our son outside trying to use vines to tie sticks and rocks together, granted he was trying to make a weapon, but, at least he was being creative about it! I have also seen my daughter take up new activities like teaching herself calligraphy, and my youngest make himself hiding places out of blankets and chairs.
Outdoors- Being outside is one of my childhood memories I really love. I remember sitting out in the sun, with a kitten on my lap, or playing with the baby chicks in the chicken pen. I remember the smell of the dirt as the rain rolled in with a big monsoon storm. I remember my brothers stealing my dolls and pretending to take them away into the desert, and I had to use my 'tracking and hunting skills' to steal them back! We made roads with our Tonka Trucks and houses outlined with rocks complete with kitchens, living rooms and bedrooms. As we got older, my brothers built a house out of old pallets, and even setup a bucket with water and a hose, learning how to siphon the water so we could have a 'faucet'. Playing outside gave helped me grow up with an appreciation for the outdoors, the quiet and peace that just 'digging around in the dirt' can provide.   I have noticed my children are much calmer and quiet when they have been able to spend some time outside in nature.
Independence- Giving my kids freedom and independence has been the most difficult 'material' for me in terms of allowing them to create their own childhood. I am just a little paranoid you might say, about the dangers out there. By dangers, I mean wild animals in the marsh, poisonous snakes and spiders, careless drivers and stranger danger. I have never lived in a neighborhood until now where kids ride their bikes to their friend's houses, run around in each other's yards, play out front on the sidewalk and buy ice cream from the truck that comes around every Tuesday. It has been really hard for me to let them participate in all these activities with the other neighborhood kids. But, I am trying. They are getting older now, and we can discuss and explain things to them about what to watch for, how the world works, and how to be safe. I know it's best to let them learn a little at a time, and allowing them to control their environment, even if it is just one street, is a good place to start.
Boredom- I love it when my kids say, "I'm bored." My classic response is, "I can find something for you to do, there are lots of chores that need to be done." Usually, they sigh and say no…then wander away. Then they find something imaginative to do! Sometimes they play a game with each other, but most of the time they go outside, go spend some time in their room on their individual interests, read, or once in a GREAT while, they will take me up on some chore I'd like them to do. Boredom is a great precursor to creativity!
Just like artwork, there are many different mediums that can be used to make a masterpiece childhood. For my children, I like to throw in pets, healthy snacks, good friends and tools that allow them to build things. Hopefully with these items and the main ones listed above, my children will be able to look back fondly on their childhoods, like I do mine, and consider them something special.