This past year my goal in February was to go completely digital. This included the massive project of sorting, scanning and filing on my computer hundreds of pictures dating back almost 20 years, medical paperwork, journals, backups of vital records, hand-written letters from my grandmother and more.
I planned and prepared, I set aside an allotted amount of time three days out of the week and an hour on Sundays to dedicate to the project. I got about 80% of my paperwork and pictures digitized in February, after which I stopped and moved on to my next goal.
Looking back, I should have just finished the goal before moving on, however, an 80% success rate with such a large-scale project is still a great accomplishment. I was really 'aiming for the moon' if I thought I was going to get all of that done in one month anyway. I plan on finishing the remaining 20% this February.
I love the quote above by W. Clement Stone. It is what I mentally tell myself when I work hard, but don't quite achieve 100% of what I had hoped. If you aim high enough, the progress you DO make will still be astounding and have a positive impact on your life.
Say one of your goals is to lose 20 pounds, but you fall just shy of your goal at 17 pounds. Should you beat yourself up over not reaching the full 20? Was the goal a failure because you didn't reach the planned end point?
Only if you are aiming for perfection.
Of course you want to reach the 20-pound mark, and you still can, but you need to give yourself some grace. When you fall down, allow yourself to learn and keep going. If you sleep in past your early alarm and mess up your new morning goal routine, learn from it and get up the next morning. If you have that extra dessert a coworker brought to the office, acknowledge your weakness and imperfection and make a plan for the next time the temptation arises.
Reaching a goal doesn't mean you have to execute your plan perfectly, it just means you have to persevere and try again when you get off track.  Acknowledging that you are imperfect is not the same as accepting failure.
Expecting imperfection-
It never fails. Anytime I start a new exercise routine, within the first two weeks, I get sick. I've learned by now to expect it. The problem is, getting sick throws me completely off my planned routine. It's twice as hard to get going again once I'm better.
The same thing happens when I make a commitment not to order out for X number of days, or not to make any impulse purchases when out buying household items. No matter how much planning and preparing I've done, it seems like something eventually happens to throw me off my goal track. This happens because I am a person, meant to be imperfect and to learn from those imperfections.   That is the key to success.
Over the 20+ years that I've been creating and achieving goals, one of the most valuable lessons I've learned is that you will mess up, you will get off track and you will lose your momentum at times. It's okay, you can choose to start over each day and keep working towards your goal.
"Supposing you have tried and failed again and again. You may have a fresh start any moment you choose, for this thing we call 'failure' is not the falling down, but the staying down."— Mary Pickford
Action Items & Resources-
Today's action is to know when to 'cut yourself some slack'.  Recognizing the difference between when you are capable of taking steps to achieve your goal, but just don't, and when you really need to take a step back and let yourself rest, or put something else first, is vital to aiming high, but acknowledging an imperfect process.
Don't allow yourself excuses, but do allow yourself some wiggle room in the case of sickness or unexpected obligations.
7 Reasons Failure Is A Good Thing
View-
Move on to –
Download Screensaver
(click image for zip file)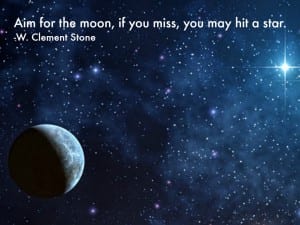 or download individual sizes