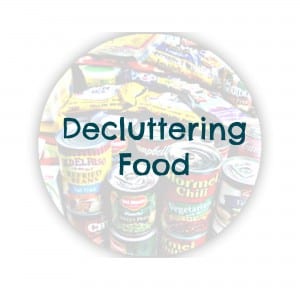 When it comes to getting rid of food that you are no longer using, you would think it would be easy as pie. In reality, lots of people, myself included have a difficult time parting with dry and canned foods, expensive seasonings and assortments of condiments that we thought we would use, or wanted to try, but just haven't done it. Eventually, we find our pantries and cupboards filled with extra items that haven't been touched in six months, with expiration dates looming, and that sense of guilt about spending money on things we aren't using. There are many reasons why we purchase food but then don't use it, some of them include-
-We see a new product that we think we would like to incorporate into our cooking.
-We know we 'should' be eating healthy, so we purchase health foods that we don't normally eat.
-Items we use just once in a while go on sale, so we stock up, too much.
-We try a new recipe that calls for out of the ordinary seasonings we don't have on hand.
-We are hungry when we shop and purchase food items we don't really like, but looked good at the time.
Once we recognize what our own reasons are for ending up with extra, unused food, we can avoid purchasing these items in the future and be more aware as we do our shopping.
Alas, this post isn't about prevention, but is more about what to do once you've already ended up with a pantry and cupboards full of packaged foods, seasonings and canned goods you don't want anymore, but can't bear to get rid of because of the money invested. So, let's shift gears now and figure out how we can get through decluttering our food areas without ending up feeling like we are wasteful.
Below are a few ideas for you to utilize as you begin the decluttering process-
Challenge yourself to planning a week, two weeks or even a month of menus using all of the items you have in your current pantry and cupboards. Supplement with additional fresh food only as needed. At the end of the month, toss or donate all remaining food you didn't end up eating that was on your menu. You'll know if it's still there, even after being put on the menu, that you really are not going to force yourself to eat the food item. You'll find as you challenge yourself to use all your extra food, you'll get excited at the new space you find in your kitchen.
Plan a 'Seasoning Swap'. If you have a willing group of friends, plan a time to get together and bring all of those seasonings you have that you purchased for experimental recipes, or duplicates you didn't realize you had. Exchange them for seasonings you use on a regular basis.
Donate non-expired prepackaged and canned foods to your local food bank. There are many people struggling to get by and the local food banks will welcome donations of unused food items. Find a food bank near you at FeedingAmerica.org.
For items that cannot be donated, and foods that you really don't want to finish off, like all those open condiments you've used once, or the chocolate syrup that has been sitting in the refrigerator door since the last birthday, and the freezer burnt sweet corn, you are just going to have to bite the bullet and give them a toss in the garbage. Rub some salt on the wound by tallying up how much those items cost you, so as you throw them away, you'll be aware of how much money you lost. I don't promote doing this as a way to cause guilt, but as a learning experience so you are more aware as you shop in the future. Trust me, it really does work and saves you from buying more items you won't use!
A decluttered pantry in the kitchen and cupboards that aren't stuffed full promotes an area where you can be creative, cooking and baking what you really enjoy. You'll find you have more space and are more intentional as you decide what to purchase while you are shopping.
Have you ever decluttered your food items?