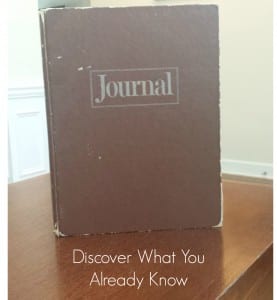 Journaling has long been a way for me to write down my thoughts and feelings and has served as a great way for me to figure things out that I have had to make decisions about. I credit this habit to my parents, who taught me early on to write in a journal on a regular basis. In fact, they bought me my first hardcover journal (pictured above), when I was just 6 years old. Most of the time my journals sit in a cupboard, waiting I guess for a day when supposedly my posterity will enjoy reading all my day to day musings after I am long gone.
Once in a while though, I will pull them out and read through them myself, marveling at what life has taught me thus far. Sometimes I read things I've completely forgotten about, and rediscover some little nugget of insight I gained and have since lost to busyness and life in general. I had one of these days a week or so ago, and had a wonderful time reading through my writings finding little treasures of information here and there. I didn't write anything too deep and philosophical, but I thought I would share some of what I did find-
Journal Entry-
May 27th, 7 years old
"I was in Daisies. But now I am in Brownies. and I got a Badge. and a Pin. my Badge was a clover."
Insight Gained-
We all like to be recognized for hard work and accomplishing goals. I've tried to pay attention to those around me and compliment and encourage them in their work and play.
Journal Entry-
September 13th, 14 years old
"My eyes have been hurting really bad every time I read, I get head aches too. Mom is going to take me to the eye doctor. I was walking out of the living room this morning and Joseph stepped on the back of my heel. There are now two gashes in it."
Insight Gained-
Sometimes we just want to throw ourselves a pity party. Everyone wants to be heard, especially when they are having a difficult time, whether physically or emotionally.
Journal Entry-
February 16th, 21 years old
"I went to work an hour early and worked through lunch to get 2 hours of overtime. I got off of work and came home and laid down because I started feeling sick, then I went to sleep for a few minutes before going to my Social Work class."
Insight Gained-
Sometimes we try and do too much, fit too many things in, and we fail. We either make ourselves worn out and sick, or we end up not doing anything well, just mediocre. If we overdo anything in life, it rarely benefits us in the long run.
Journal Entry-
May 6th, 28 years old
"Marie (my sister) came to visit with Savana and Nathan. I had a lot of fun. Tomorrow is my last day of class, then the summer. It will be really nice. James has his final exams this week also and Madeline and Andrew have a couple more weeks."
Insight Gained-
Sometimes life just goes by. The kids grow, the seasons change, school starts and ends, and it just keeps flowing. That is wonderful as long as you are aware and intentional and it isn't passing you by without you taking notice.
Life has gotten fuller, and busier as my children have gotten older and we have settled in to our daily routines, activities and rhythms. I haven't written in my journal for quite some time now, but I think I'll begin again. It is always nice to rediscover what I already know, and journaling will make sure I can continue that discovering as the years pass by.