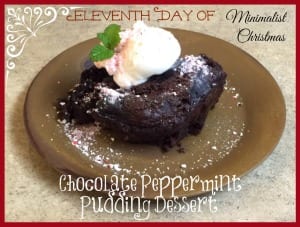 In my everyday life, I try to apply the principle of moderation in most areas. I try to get a moderate amount of sleep, eat a moderate amount of food, drink a moderate amount of water and exercise a moderate amount of time.
During the holidays, all of a sudden it is acceptable to overindulge in many ways, from spending on gifts to eating abnormal amounts of food and goodies.   While it may seem like this is just part of the celebrations and making enjoyable memories with those we love, we need to keep in mind that some overindulgences have longer lasting negative effects that show up after the celebrations are over.
Once family is gone and the New Year has settled in, you may step on the scale and realize you are feeling sluggish and overly tired because along with your gifts, you also accumulated five pounds of extra weight during the holidays. Eggnog is soooo good!
I'm not trying to dampen your Christmas spirit here, I'm just giving a word of caution about too much overindulgence, even in what seems like good things, and we all know holiday food is REALLY good! By using moderation, you can still enjoy all the tasty treats and come out at the end feeling great. Use these two tips to help add moderation into your holidays while eating.
-When you go for your first plate of Christmas dinner or dessert, dish up everything and anything you want, but in half-size portions compared to what you would normally take. Then, when you are done, go get your second plate doing the same thing.
-Savor your food and chew. It is known that it takes a full 20 minutes before your brain can signal your body that you are full. Take the time to have good conversations with your family and friends, enjoy the tastes and combinations of all the food on your plate. You'll end up just as satisfied and feeling much better physically at the end of your meal, and the holidays!
-Take some time to move. You don't have to complete a full workout, but some light physical movement can help your body keep digesting regularly so you don't end up feeling tired and sluggish. Take a family member and go for a walk. If you have snow outside and kids around, go make a snowman or have a snowball fight. If you aren't able to get outside, take a few minutes to walk around the house, up and down the stairs and do some stretching.
By using moderation, you can still enjoy all of the wonderful foods and desserts that come with the holidays! Each year, I make a 'Christmas Eve' dessert for our family to enjoy. A really yummy one that we have had is Chocolate Peppermint Pudding Cake, featured in my post picture. I snagged the original recipe off of MyRecipes.com, but made a couple of changes below, so if you're looking for a great dessert idea, give it a try. It is really simple and delicious, exactly my type of cooking.
Chocolate Peppermint Pudding
1 package devil's food cake mix without pudding
1/2 cup milk
3 tablespoons vegetable oil
1/3 cup crushed hard peppermint candies
1/2 package instant chocolate pudding mix
1 cup boiling water
Vanilla ice cream (for lighter version, use whipped cream or buy a light ice cream)
Additional crushed hard peppermint candies for garnishing
Preparation
Combine 2 cups cake mix, milk, and oil, stirring mixture well. Stir in 1/3 cup crushed peppermint candies. Spoon batter into a lightly greased 8″ square pan.
Sprinkle dry chocolate pudding mix over the top of batter. Pour boiling water over batter (do not stir).
Bake, uncovered, at 350° for 35 minutes. Let stand 5 minutes before serving. Serve warm pudding cake with vanilla ice cream. Sprinkle with additional crushed peppermint if you'd like!
Enjoy!