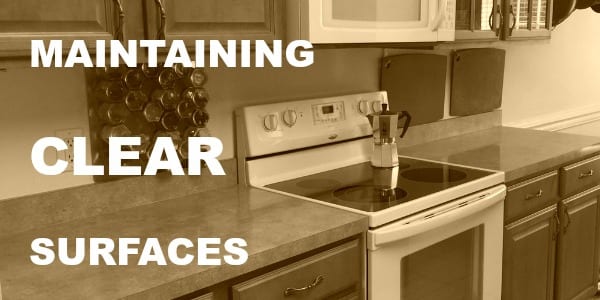 Clear surfaces in your home is one of the best ways to bring a feeling of tranquility and calm.  Maintaining that clarity can be difficult at times.  Read on for some motivational reminders and help on how to reclaim your clear surfaces.
It's no secret that part of a minimalist focused household includes having clear surfaces. When I first began simplifying our home and decluttering, keeping our tables, counters and desktop clear was one of my top priorities.
Over time, a new fruit basket appeared on one of the kitchen counters, along with some rock sugar on another. In our living room, remote controls made it out of the basket back onto the fireplace mantle. In our bedroom, the side table became home to a few books and my cell phone at night.
Having oft used items within easy reach seems to be the logical thing to do, the problem is in most households, there are many items that are used daily, and to keep them all out and about in the house leads to clutter.
Imagine keeping your keys, purse, remote, phone, hair brush, dishes, towels and all the other items used on a daily basis in the core areas of your home, visible and within the easiest reach. It would be a visual and physical mess. In addition to the mess, it also increases the tendency to add more to the piles. Clutter attracts clutter.
It is an interesting phenomena how our perception begins to change of what clear and clutter-free looks like as you declutter, or reclutter. It is a gradual change when you begin to reclutter, adding one thing at a time until before you know it, a surface is home to several items again.
As I have noticed this occur in our home over time, I have decluttered and recluttered surfaces every so often. At this point decluttering mainly means putting items away in their proper homes instead of leaving them out on a surface.
If new purchases are made, making sure they have a home out of sight is essential to maintaining clear surfaces, as new possessions have a tendency to accumulate out in the open.
Before you make a new purchase of something that will have a long-term place in your home, be sure you already have a designated spot for it, out of sight when not in use.
If keeping surfaces is new to you, you may want to take a look at the following posts-
If you are already sold on the value of decluttering and keeping visual clutter to a minimum, be sure to maintain your clutter-free surfaces through cultivating habits of putting things away as well as having a home for new items before they enter your home.