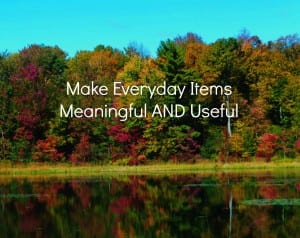 This past week I made the decision to get rid of an old picture I've had for years.  The picture held no personal meaning, but was functioning as a wall back splash in my kitchen above the sink.  The picture was simple with white flowers in a pot, sitting atop an old wooden chair.  You know, one of those generic decorative pictures you can pick up at any of your local retail stores in their home goods department.  It was the last picture in our home still hanging on the wall that did not bring any type of personal feelings or memories when we looked at, and I was ready for it to be gone.  Still, it was serving a purpose, and what would I do to protect the wall when it was removed?
So, I thought about it for a while.  Would it be better just to hang on to it for it's functional purpose?  Better to get rid of it and leave the wall bare?  Replace it with something meaningful and functional?  This past week I finally opted for the last option.  It's fall here in Georgia, and the leaves are starting to turn beautiful colors on the trees.  It reminds me of the trip our family took in a motorhome last September right before we moved from New York.  We drove up through Vermont to look at the stunning scenery and camp along the way.  It was gorgeous and ended up being my favorite family trip to date.   We stopped and checked out the maple syrup and maple candy at Morse Farm, took a random winding dirt road just to pick some leaves we saw from a distance and drove to Bennington and fell in love with their Tavernware pottery.
When I started thinking about what memory I would like to have hanging in the kitchen behind the sink, my mind immediately thought of the beautiful Vermont leaves, and I knew that's what I wanted.  After selecting the picture, I ordered it as a large aluminum picture that is waterproof, perfect as a back splash!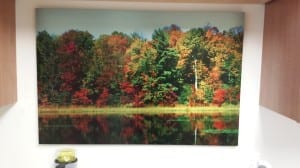 Why am I telling this story?  Well, it's a lot of fun to reminisce about my favorite trip for one thing, but also because as we simplify and declutter our homes of items that are not meaningful to us, we usually hold on to those items that are useful.  However, sometimes I like to replace some of those useful items with things that serve a dual purpose of being useful and meaningful.  I don't do it very often, after all, if you already have something functional, it is usually better to just keep it than purchase a new one.  If I use some items on a regular basis that could be meaningful and functional, I like to opt for both if I can.
Things I have replaced to be both functional and meaningful include~
~Store bought washcloths and potholders replaced with hand made crochet ones.
~Replaced a throw blanket with a blanket given to me from my Grandmother.
~Replaced a functional, but uncomfortable chair with a comfortable place for sitting and reading.
~Replaced artificial plants with live ones to bring us closer to nature.
~Removed all of the meaningless pictures on the walls, and put up just a few that were meaningful.
Decluttering and simplifying is about more than just living with the least amount of items you can just to function and get by.  Surrounding yourself with items that are meaningful as well as functional brings an added level of enjoyment to life and awareness when you are considering what items or memories to add to your home.
Have you ever replaced a functional item with something that was both meaningful and useful?