Alone we can do so little; together we can do so much. ~Helen Keller
Reddit declutter and simple living subs can provide an additional support system and place to ask questions and get answers about decluttering and simple living, without a lot of the visual clutter that can distract you and crop up on other platforms. Sometimes I enjoy just scrolling through good old fashioned text threads looking for nuggets of advice and tips from people located all over the world that are striving for a more simple existence and who value taking regular stock of their belongings and decluttering those items that are no longer valuable or of use to them.
Reddit Declutter Subs
With 493,000 members, the r/declutter subreddit is one of the biggest Reddit declutter communities online. This subreddit is very active, so if you are new to your decluttering journey and want real-time support and answers to questions, this is a great place to hang out. Interestingly, there is quite a bit of overlap between members of this sub and those who are in another featured Reddit declutter sub, r/frugal.
The frugal living subreddit has 2.4 million members and a lot of overlap when discussing decluttering, minimalism, simple living and how to accomplish those things coming from a place of frugality. With a monthly megathread topic to help lead discussions and a new frugal living Discord server as well, this group is a great place to not only get tips for decluttering, but also how to reap the financial benefits of living with less, and ways to spend less when you do need to purchase things.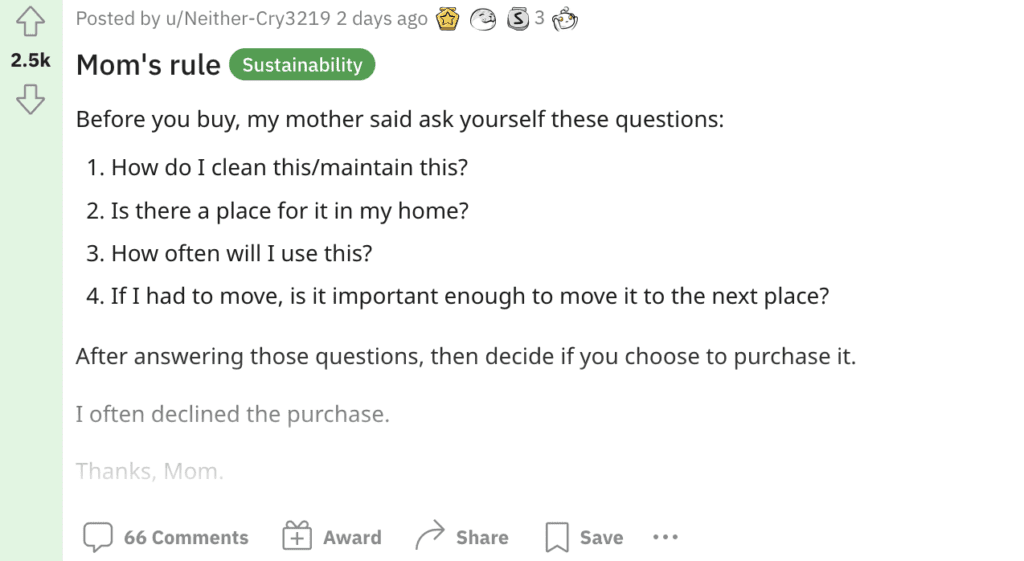 If you are looking for a gentler approach to decluttering your belongings, the KonMari method and subreddit might be a good fit. With 152,000 members, it's still a pretty active Reddit declutter sub. The KonMari method of decluttering focuses on intentionally looking at each item and determining if it 'sparks joy' in your life, which is the primary reason to keep something, or get rid of it. This makes the decluttering process a more emotional journey, rather than regular decluttering, which relies on a more factual basis for keeping or getting rid of items.
This subreddit focused on anticonsumption is a great place to lurk to keep your motivation strong when faced with consuming unnecessary items. With 447,000 members and lots of sage advice like the 'Mom's Rule' featured above, this community can function like watching a Hoarder's episode, keeping you from buying one more thing, to giving yourself a pat on the back because you haven't accumulated 'that much stuff'. If you've been trying to get up the courage to cancel your Amazon Prime account, you'll find encouragement for that as well in this community.
Reddit Simple Living Subs
Along with Reddit declutter subs, you can also check out those subreddits that are all about the topics slow and simple living and a minimalist lifestyle. Since these lifestyles incorporate the core value of decluttering your belongings so you are focused on owning only those items you use and value, it is natural to join these groups as well to come full-circle in your decluttering efforts, and to support you in keeping your home decluttered.
This is a great subreddit to hang out in if you are just getting started on your minimalism journey and wonder what practicing minimalists think about owning various items. Be warned, there is no right way to be a minimalist. It's also a great place to find alternative ways of doing daily tasks without owning as much. With over 1 million members, there are usually hundreds online 24/7 so you'll have plenty of people to engage with. There is a lot of overlap between the people that frequent this reddit declutter focused sub and the r/frugal sub if you want to choose just one to be active in.
This reddit declutter sub subscribes to the idea of "Live Better With Less". With 949k members and quite a bit of engagement, this is a great community to discuss living in a sustainable, environmentally friendly way, as well as to discuss core principles of the simple living mindset, including decluttering, how to manage one's time better, thinking out loud about your values surrounding simple living and support for day-to-day tasks like decluttering social media, talking to your family about simple living and more.
If you aren't a big fan of Reddit, I've compiled a few other online communities for you where you can also find a support network to help with your decluttering and simple living lifestyle.
Hopefully this list of Reddit declutter and simple living subs will get you pointed in the right direction to find a community that supports decluttering, your style of doing it. Whether you are a matter-of-fact declutterer, or someone who appreciates a gentler, more thoughtful approach to letting your belongings go, one of these groups should provide the motivation and camaraderie that is so helpful when you embrace living a clutter-free, simpler lifestyle.