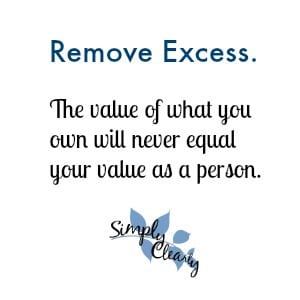 There are few areas in life where excess is a good thing. Those areas where it is better to have an overabundance are intangible, such as love, forgiveness, empathy and charity. Sadly, those areas are where we are more likely to have a deficit, rather than excess. It seems the more we focus on physical items and the accumulation of them, the less we focus on the valuable things in life like our relationships and interactions with people in general.
Removing excess accumulation makes room for abundance in our lives.
There are two main parts to removing the excess from our lives. The first part relates to the actual removal of physical items and commitments from our homes and lives that are no longer used or wanted, or beneficial. The second part is the removal of the desire for always wanting more; that inner feeling that crops up urging us to buy something new, or commit to another obligation to increase our perceived self-worth.
Removing Physical Items
The removal of physical possessions is probably the first thing people do who are looking to simplify their lives. Decluttering the home leads to instant results and satisfaction and helps build the momentum and motivation for continued simplification of other areas of life. Start small, and be kind, but firm with yourself. Keep only those items that are used on a regular or seasonal basis, or that have such sentimental value that they are displayed in your home, not kept in a box in the attic. Don't keep duplicates or 'just in case' items.
Chances are you won't ever need them, and if you do, the cost to purchase them will be less than the physical and mental cost of keeping them as clutter. I include commitments as physical items because they require our physical presence and attention, whether at our child's school, our church, the soccer field or the music academy, commitments add up to time, energy and sometimes excess. Take a good look at those commitments you've made, and if some of them are not as beneficial as you had hoped, bow out gracefully.
Removing the Desire For More
Perhaps one of the hardest parts of creating a simpler life is removing the desire for more. It seems to be a part of our nature to accumulate as much as possible, save for a rainy day, keep what we can 'just in case' we need it. Those feelings are played on by advertising and marketing agencies that spend millions of dollars telling us why we need their particular brand of item as part of our collections. Aside from that, it is also the cultural norm in the developed world to accumulate as much as possible, often seen as a sign of personal success. All of these things together promote a culture of over consumption, a race to accumulate more than the next person, and in the end, more focus on things instead of people and relationships.
We may know these things intellectually, but how do we go about actually removing the desire for more from within us? Practice. Listening to our inner dialog and intentions as we experience feelings of 'want' is the ultimate way of reigning in our desires. Pause for a moment before putting something in your basket at the store and determine if it is something you need or will value, versus if it is something you want in the moment to increase feelings of self-worth. The value of what you own will never equal your value as a person. As you practice shopping intentionally, and listen to that inner urging to purchase, you will start to recognize patterns about yourself, when you are more likely to buy things you don't need, and how advertising effects you. As this happens, the desire to buy is replaced with intentional purchasing.
Excess belongings and commitments, and the pursuit thereof keep our attention and energy focused on things and feelings of importance through busyness. Make room for more love, more giving and more happiness in your everyday life. When we have fewer possessions and less focus on accumulation, we find a deeper desire to connect with those around us, meet new people and experience our world on a different level.