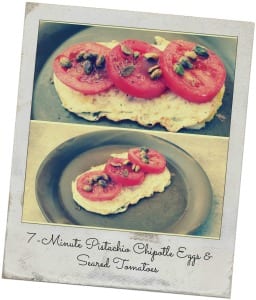 This morning around 10am, I got really hungry, more so than usual. I had taken the dogs for a long walk and built up my appetite along the way. I just wasn't in the mood for my usual mid-morning Ancient Grains bar, though I do love them. Today I wanted protein. Below is what I came up with, surprisingly creative for someone who is still learning to enjoy being in the kitchen. It was delicious!  I am so excited about it, I just had to share.

My inspiration came from noticing the tomatoes sitting atop the fridge still needing to be used, craving pistachios and eggs in a strange way, and my never ending desire for spicy food. I hope you give it a try and love it! Oh, and it is so simple, it only takes about 7 minutes from start to finish. Enjoy!
7-Minute Pistachio Chipotle Eggs & Seared Tomatoes  
You'll Need:
2 Eggs
2 Tbsp. Shelled Pistachios
1 Whole Tomato
Chipotle Sauce or Tabasco
Salt & Pepper
Spray your cooking pan with a non-stick spray and turn on burner heat to just higher than medium temp.
Slice your tomato into 3-4 thick slices. Sprinkle both sides with salt and pepper.
Sear tomatoes in heated pan for 30-45 seconds on each side. Remove from pan.
Crack both eggs in the pan and let cook for about 45 seconds. Break the egg yolks and sprinkle one tablespoon of the pistachios, and 3-4 dashes of the chipotle or Tabasco sauce on the eggs, allowing the nuts and sauce to cook into the eggs before you flip them. Flip eggs, let cook for another minute, then remove from pan.
Place eggs on plate, top with warm tomatoes and sprinkle remaining pistachios. Add a bit more chipotle or Tabasco sauce to the top and fresh ground pepper if desired.
Enjoy!
Nutrition Information-
Calories: 192
Fat: 9.6g
Sodium: 183mg
Protein: 14g