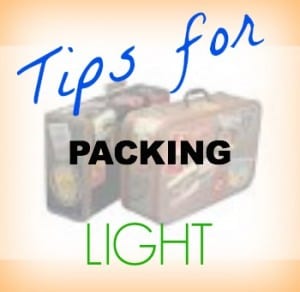 This past weekend I had the opportunity to go with my husband on a business trip, and bring our three children with us. One thing that I feel like I have a pretty good handle on is packing minimally for travel. My husband uses one carry on bag for himself, as he usually has to have both professional and casual attire for these trips. But, for myself, and our three children we are able to fit everything easily into two extra small carry on suitcases. My husband is always amazed when he asks me, "Is this everything?" and I reply, "Yes!" If you are planning a trip and would like to pack as minimally as possible, read on for some ideas on how to pack light and maximize your space.
-Pack matching clothing. If you want to pack light, avoid packing outfits that require different pairs of shoes, skirts or pants and tops in order to make a matching outfit. Pack only those tops items that will match any of the bottoms you pack and vice versa.
-Reuse pants. Jeans and pants are some of the bulkiest items to pack, and also the least likely piece of clothing to get so dirty that you need to change it everyday. I usually pack one pair of pants or shorts for every 3 days of travel. Including the ones I am wearing as I travel, that gives me more than enough options for the entire trip.
-Skip the toiletries. Anymore, if I am traveling to a destination and staying for up to a week, I don't pack any of my shampoo/conditioner, soap, shaving cream, etc. Assuming you have a bit of extra money to spend, I recommend stopping by a local store and purchasing the travel size toiletries you need once you reach your destination. This will make more room in your bags while traveling, and avoid possible leakage on your clothing and the hassle of purchasing and storing the travel containers.
-Do laundry. If you really want to pack light, find out where the nearest laundry facilities are available and pack only a few days worth of clothing. Just plan on doing a load of laundry during your trip. I've done this several times and have been able to fly with just a backpack for up to two weeks. It isn't nearly the hassle it seems like it would be, in fact, it makes traveling so much easier to just carry your bag around, and I find it to be very worth the effort.
-Borrow items. If you are traveling to visit friends or family, ask them beforehand if they have items like hair dryers, curling irons or bulkier items like extra winter jackets, gloves or hats. I always make it a point when friends or family members are coming for a visit to provide a list of things they don't need to worry about bringing that I have on hand for them. They have always been very grateful for the offer.
Traveling is a great way to experience so many different things in life and create memories with those we love. Packing can sometimes get in the way of enjoyment if it means we are stressed about the amount of items we feel we need to bring or the idea of lugging our stuff around with us on a trip. Packing minimally helps to eliminate that stress and allows us to focus on the experiences we hope to have and enjoy during our travels.
And for your enjoyment…my ALL TIME favorite movie scene about traveling light…

Do you have any tips for packing light or minimally for trips? Please share below!