This weekend we decided to hop in the car and drive to Atlanta and see what it has to offer. We piled the kids in the mini-van and stuffed our bags and extra cot in through the side door, since our trunk door doesn't open at the moment (long story). Once we were situated and the kids had their travel goodie bags in hand, we took off. The trip was a spur of the moment decision, probably based on the fact that 4 of my siblings were gathering in Vegas for a family event that I couldn't attend, but I didn't want to sit home either and pine about it, so I decided to plan a family event of my own to explore and make new memories.
The drive from Savannah to Atlanta was about four hours, the kids did pretty well and overall I thought it was a pretty enjoyable road trip. We were able to get a good view of Georgia summer foliage, and a lot of the time it felt like we were traveling through a national forest, lush and green with not too much in sight. We arrived and checked in to our hotel in downtown Atlanta around 6pm. We were all hungry by then, so we took off on foot and found Aunt Pittypat's Porch, a restaurant that serves authentic southern food, and is decorated with all the Gone With the Wind décor you could want, including life size cutouts of both Rhett and Scarlett. I had catfish with black-eyed peas and collard greens, as well as some creamy, delicious crawfish dip with home made salt crackers on the side. It seems in the South, they love to start your meals off with bread, bread and more bread! Before we even got to our entrees, they had served us cornbread, biscuits and chocolate chip muffins! Unfortunately, the kids couldn't eat any of their food after all that bread, but my husband and I had a wonderful culinary experience!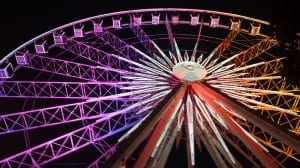 After dinner, we walked back downtown and helped pump each other up to ride the Skyview Ferris Wheel. At twenty stories high, all five us were a bit nervous to get on, even though I had purchased our tickets in advance. We eventually made it on and had a great time! Luckily they send you around four times, as it took about twice for me to get comfortable enough to look around when we were at the very top. The wheel lights up different colors, and in the evening sky it looked absolutely amazing. Since we aren't late night type of people, we ended up back at our hotel room around 8pm and just relaxed, read some on the Kindles, then watched a little bit of TV and went to sleep.
After a refreshing 9 hours and 13 minutes of sleeping, I woke up Saturday morning ready for the day. Our youngest son had his heart set on eating at the Waffle House, so we headed over there for breakfast. It was a short walk, and a longer wait, but we finally got in and enjoyed a tasty breakfast of….you guessed it, waffles! None of us could finish our meals, food is rich here…but can I say pecans in waffles are fantastic! Because we slept in so late, by the time we finished breakfast, it was really closer to noon, so we headed out just to explore the area. We ventured in to Centennial Olympic Park, where there were hundreds of people at the 'Praise In the Park' event. I haven't ever seen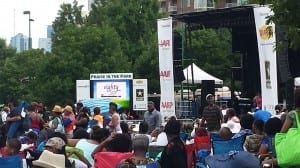 that many people gathered together to sing Hallelujah and Praise music. You could feel the energy in the air with all the clapping and 'Praise the Lord' and 'Thank you Jesus' being called out over and over. Our kids weren't sure what to make of all of it, and to be honest, neither was I. It looked fun though, if that's what you are used to when it comes to religious worship. We walked around the Luckey Marietta district, but didn't really find too much that wasn't just shopping, and not extremely kid friendly, since we hadn't planned to go in to the children's museum this time around.
When we were done ogling at all the people in the park and checking out the area, we headed to Sugarloaf Mills Mall where I had reserved dinner for us at the Medieval Times Tournament. This was fairly pricey, but it was worth every penny of the experience. We were escorted into the castle where we were welcomed by the king and his chancellor, as well as all of the other members of the court (waitresses, ticket takers, cashiers, etc.). We were all given crowns designating us in different 'classes'. The kids toured the dungeon where they learned more about methods of medieval torture than I ever wanted them to know. We then watched as the king bestowed the titles of knight and lady on those with birthdays, anniversaries or other special occasions they were celebrating.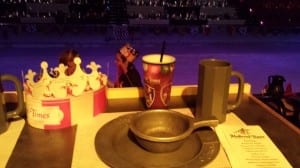 We were then called by our 'class' into the tournament arena/eating hall to take our seats. In front of each of us were set look alike pewter dishes. The 'wenches' came out and explained our food fare for the evening. We dined on dragon blood (tomato bisque), baby dragon (1/2 a chicken each), dragon fingers (spare ribs) and of course topped it off with the sweetest part of a dragon, its heart (an apple pastry). We ate all of this with our fingers just like in medieval times while taking in a most entertaining show of knights from each of our class' kingdoms. They rode beautiful Spanish horses while jousting, sword fighting and competing. The audiences cheered for their respective kingdom and knight, and it was especially fun when our knight won the whole tournament out of the six kingdoms.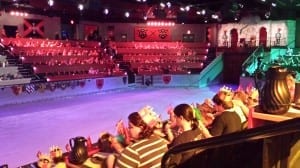 We enjoyed the show immensely and were pretty worn out from all the excitement when it was over. We headed back to our room to relax and unwind for the rest of the evening.
Sunday morning we were all awake by 7am. It must have been our sound sleeping the day before. We had plans to visit the Georgia Aquarium for the day, but we needed to first pack up and checkout, then find a place for breakfast. Once we were in the van, we headed over to West Egg, a trendy little restaurant that we absolutely LOVE! It is my new favorite restaurant. We walked in, and I fell in love with the look and feel. It is a remodeled warehouse with a throwback feel decorated with old wooden library tables and chairs. They keep their serving utensils in library card wooden file cabinets, along with condiments, lids, straws and other stuff. They've got a big wooden study table at the entrance that features an old metal pencil sharpener, the kind I used when I was kid where you actually had to turn the handle. I haven't even mentioned that their food was the BEST breakfast food I have every tasted! I had eggs benedict over salmon cakes with garlic grits. I loved it so much; I want to move to Atlanta just so I can go to this restaurant. Everyday.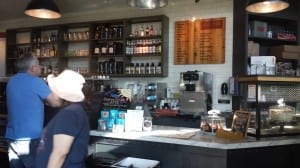 After a slow, lingering breakfast…I really didn't want to leave, we headed for the Georgia Aquarium, our last stop before heading home. The aquarium definitely lived up to all the hype given it through the massive amounts of billboards, signs and other media advertising used to get you there. I've never felt so close to the ocean world as I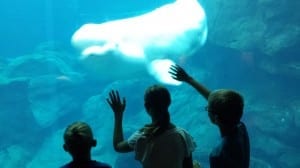 was walking through the halls in the aquarium where thousands of fish, sharks, rays and whales are swimming all around and above you. Our kids loved the Beluga Whales, as they are especially friendly to children and would swim right down to them and hover on the other side of the glass, it seemed like they were smiling almost. Another one of our favorites was the Asian-Clawed Otter. They are adorable, as adorable as otter's can be anyway. They were so playful with each other and cuddly, a lot of fun to watch! The aquarium also has 'touch pools' where we were able to stick our fingers and arms in the water to touch piranhas, rays and all sorts of sea creatures including starfish,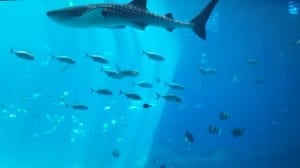 urchins, sharks and anemones. We had lunch at the over-priced café (understatement), which was very painful, as we had to dump most of the food so we could get to the Dolphin Tales show in time. The show was packed, but we could see really well from our seats and enjoyed seeing all of the dolphins and their trainers ride around on them, doing flips in the air and looking like they were having a fun time (I hope, I've got mixed feelings about animals in captivity).
After the show, it was late afternoon and we decided to head home to Savannah. The drive wasn't too bad, with two out of three of the kids falling asleep on the way, and the third somehow able to read almost the whole time without getting sick.
Though it was a fairly quick trip, we had a very relaxing, fun experience and time together. We want to head back some time in the future to visit Stone Mountain, the Coca-Cola Museum, and of course my new fave restaurant, West Egg.