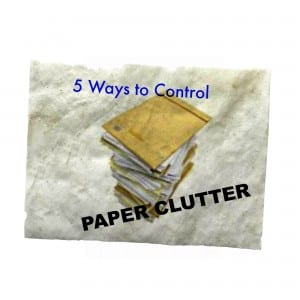 No matter how often I clean off my desk, there always seems to be more paper that shows up. Between bills, mail, receipts, appointment reminders and kid's artwork, there is always paperwork out and about, and it's an eyesore! Well, except for the kid's artwork…most of the time. Over the past couple of years I've managed to put into practice some things that have helped reduce my paper clutter significantly. Take a look and maybe some of these ideas can help you too.
Go Green- Most banks and companies offer a paperless or 'Go Green' option where you can receive your statements by email or by logging into your account and downloading them as a PDF. I opt for this option whenever possible to avoid receiving actual paper statements. If you're concerned about not having access to your statements at some point, just download them and create a file on your computer for those particular statements. You can also back them up by using an online cloud service like DropBox or JustCloud, although I tend to believe most large banks and businesses have their own backups, so I'm not too worried about losing my statements.
Scan Receipts- Although I have curbed my shopping trips dramatically, I still end up with a pile of receipts on a regular basis. I used to stuff them into a drawer in my desk and periodically go through them categorizing everything in my budgeting program and filing away the receipts that I may need later for warranties or returns. However, opening that drawer was overwhelming, so recently I've started using Smart Receipts, an app that allows me to take pictures of my receipts immediately after I make a purchase, then email myself a PDF or .CSV file at the end of the week of all of the receipts that I can use in my accounting. It has cut down a whole drawer full of papers, as the only receipts I keep now are those I need for refunds or warranties, and they get filed away immediately.
2 Minute Mail Rule- Even with going paperless for most statements and bills, I still receive mail on a regular basis, so I have instituted the '2 Minute Mail Rule'. If I receive a piece of mail, and it will take me two minutes or less to take care of it, then I do it immediately. Mail items like an appointment schedule reminder or bill from the doctor, a community event flyer to add to the calendar, registration form for a child's activity, all of these types of items I will try to complete as they come in to keep clutter from the mail to a minimum. Anything that needs a longer amount of time to handle goes in my 'Follow-Up Folder" (see below).
Family Art Board- For those of us with children, we know that kid's LOVE to save every piece of artwork they've made or picture they've drawn. While I do have my favorite pieces from each of them, it can be overwhelming and quickly take up all my available wall space if I save every piece of paper between the three of them. I've designated one side of our refrigerator as our 'art showcase' area, and when it's full, we clean it off and replace with new art. However, I found some MUCH cuter ways to display kid's artwork from crafty moms on Pinterest. Take a look at how they display their kid's artwork for some great ideas.
Follow-Up Folder- Last but not least, is my follow-up folder, which is basically the replacement for my desk drawer that I used to just shove all my papers in that I needed to do something about…later. After implementing the strategies above, I still end up with some paperwork that I just have to wait on taking care of. Those papers get put in my folder and gone through once a week. This folder holds things like, the brochure I'll need at the end of the summer to order my kid's school uniforms, wedding announcements to be put in the family scrapbook, special order catalogs I'll use for gifts in the near future, bills that need to wait to be paid, etc. I try very hard not to put anything in this folder that is time sensitive, or that can't sit for at least two weeks.
It is amazing to me how implementing these strategies have cut down so much on the amount of paper clutter around the house. My desk used to be an eyesore and very overwhelming to sit down to, with paperwork all over the place and constant things to take care of.   Now, my desk is clear a good percentage of the time, inviting me to sit down and create, write or work on one item at a time at a slower pace, and is much less stressful.