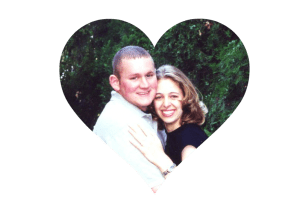 None of us know the future, if we're lucky we've learned some things from the past, all we really have is the present moment to live.
If I had known years ago what was going to transpire in my life up until today, I wouldn't change a thing. Today I am celebrating my thirteenth wedding anniversary, and as with most life-changing events, like birth, marriage and even death, we think we know what to expect, but find out reality is far from the ideal we had envisioned. Looking back on the reality of life over the past thirteen years, I can honestly say that I am grateful for all the experiences, both the ups and downs I've had as a wife and mother. In fact, looking back now, I am more grateful for the 'down' times, since that is when I have experienced the most growth personally.
I can truly say I am really excited for the next thirteen years, whatever they may hold. Yes, I am in a great place right now in life, which makes it easier to look towards the future with an optimistic attitude, but I'd like to think I've learned some valuable lessons during those times that weren't so great, that will help me as I continue to move along through life.
Some of the things I've learned that have been the most life changing for me include-
–       Make living in the present moment the most important thing you are doing.
–       Don't worry so much about the past or the future.
–       Be authentic with those around you.
–       Everyone just wants to be loved, accepted and validated.
–       You aren't right about everything, and life is so much better if you're open to being wrong.
–       Give others the benefit of the doubt.
–       Realize we are all human with mistakes, insecurities and flaws, and it's okay to talk about them, in fact I think it is essential in healthy relationships.
–       Saying sorry doesn't have to mean the same thing as saying you are wrong.
So, with all of that being said, I'm going to take my own advice and go 'live in the present moment', enjoy being with my husband and children, especially today as we celebrate another year of love, connection and happiness in our family.