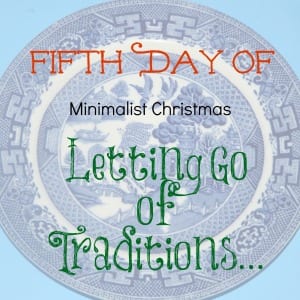 When I was a child, we had a 'special plate'. Anytime any of my siblings, parents, or myself accomplished something extraordinary, or, if it was our birthday, we got to eat on that plate. The plate became a symbol of what we had accomplished, of how special we were. What I've noticed since growing up and establishing my own home is that no plate can replace that 'special plate' I had as a child. Try as I might, no plate has held the same meaning and 'specialness' as the original, and no other plate has made me feel as special as I did when I ate off of the one in my parent's home. Some traditions are like that plate, useful for a time, serving the purpose of teaching us something, evoking certain feelings, bonding people together, but sometimes that tradition doesn't need to be continued after it has accomplished it's intended purpose.
I love traditions. Some of them I keep just because they are fun to do.   Like eating ham, egg and cheese muffins Christmas morning for breakfast, or reading facts about Thanksgiving that have been taped to each of our chairs, or even our non-holiday tradition of eating applesauce or canned peaches and toast for our Sunday evening snack. Not all traditions need to have a deep meaning behind them to be passed down the family line.
The problem with some traditions, is when they are no longer serving a positive purpose in your life, other than stressing you out, but you can't let go of them, simply because they are tradition. Maybe your mother, grandmother or even further back started the custom, and you feel obligated to keep it going, even though you don't particularly like it.   When this happens, it's time to consider why we have traditions to begin with-
To strengthen family ties. Traditions in my home serve to strengthen the bond between family members. Whether it's sharing a beloved home cooked meal, sharing an activity that we all enjoy, or reminiscing about a shared experience, the key is that tradition is something that we have shared together, which strengthens our bond as a family.
To serve a purpose. Some traditions are formed to fill a need. Maybe they weren't started with the idea of becoming a tradition, but have just 'always been done that way'. The following tale is a good reminder to rethink those traditions that may have been started to serve a purpose, but have outgrown their usefulness.
As a little girl watches her mom prepare the Easter ham, she wonders why her mother cuts off both ends of the ham before putting it in the pot. So, she asks why, and her mom realizes that she doesn't know. That's the way her mother prepared the Easter ham.
So they call grandmother and pose the question about cutting off the ends of the Easter ham. Grandmother admits to not knowing either. She just prepared the ham the way her mom did it.
Their next call is to great-grandmother. When they ask her about her method of preparing the Easter ham, she laughs. Then she says, "It was the only way I could get the Easter ham to fit the small pot I had!"
To remind us of the past. There are beautiful traditions and customs in our world that are meant to instill in us a sense of pride in our history, where we came from and what our ancestors stood for. Such traditions could include passing down heirlooms and stories and even family names, having celebratory meals like Thanksgiving or Passover feasts and specific religious worship rituals. These things help instill in each of us a sense of belonging to our 'tribe' our family and the values that our particular group holds dear.
To have fun. Many traditions are passed on just for the fun of it! New pajamas on Christmas Eve, balloons on birthdays, singing carols, special meals and more! Even things as simple as folding towels a certain way, or hanging your clothes a certain direction could be considered traditions, especially if you do them as a way that unconsciously helps you remember someone with whom you share a bond.
During the holidays, tradition seems to be one of the driving forces behind many of our actions, how we decorate, celebrate, decide on the number of gifts and so on. Consider this year your personal and family traditions, and don't be afraid to let go of those that are no longer useful and serving their intended purpose. Don't be afraid to let go of that 'special plate' and focus on the memories and the feelings you gained from it.