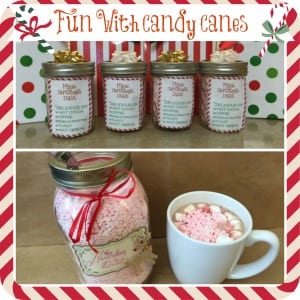 Christmas is in full swing and everywhere you go there are decorations, goodies and one of my personal favorites, candy canes! When I was young, my parents taught me that we have candy canes at Christmas to represent the shepherd's staff in the story of Baby Jesus. Wiki says the original peppermint candy cane has been a part of Christmas since 1874, all I know is that I'm grateful for wherever they originated from, they are delicious!
This year I went a little crazy on the canes and bought 19 packages of them…with a purpose! My kids and I had a great time making 'Magic Reindeer Dust' or 'Magic Christmas Dust' to give to their schoolteachers as gifts and to some of their friends. Of course we made some to keep here at home too, and have been sprinkling it on everything we can think of, cereal, toast, bagels, coffee, hot cocoa and more! We've enjoyed it so much it's definitely going to be added as a family Christmas tradition from now on. Children or not, give this a try this Christmas season, you'll be hooked!
What You'll Need-
–A box of peppermint candy canes (if you are putting it in mason jars to give out like in the picture, 10 full boxes will be needed for 12 of the 8 oz. mason jelly jars, 4 full boxes for the 16 oz. mason jar.)
–Food processor (this seems to be a must, and the mini-processor we tried first did not work well at all, so I would say a regular size food processor.)
The steps are pretty self-explanatory in the pictures below, but here is a quick written rundown as well-
Unwrap all your canes. Really make sure you've gotten all the wrapping off, I've found bits of plastic floating in my drinks… J
Place 6-8 canes in the food processor
Pulse at first until they are broken up, then alternate between low and high to get the desired dust and crumbs mixture you'd like.
Carefully take the lid off and stay out of the way of all the peppermint dust! As much as I love candy canes, they are not fun to inhale!
Pour dust into a large bowl and use either a scoop or funnel to fill jars.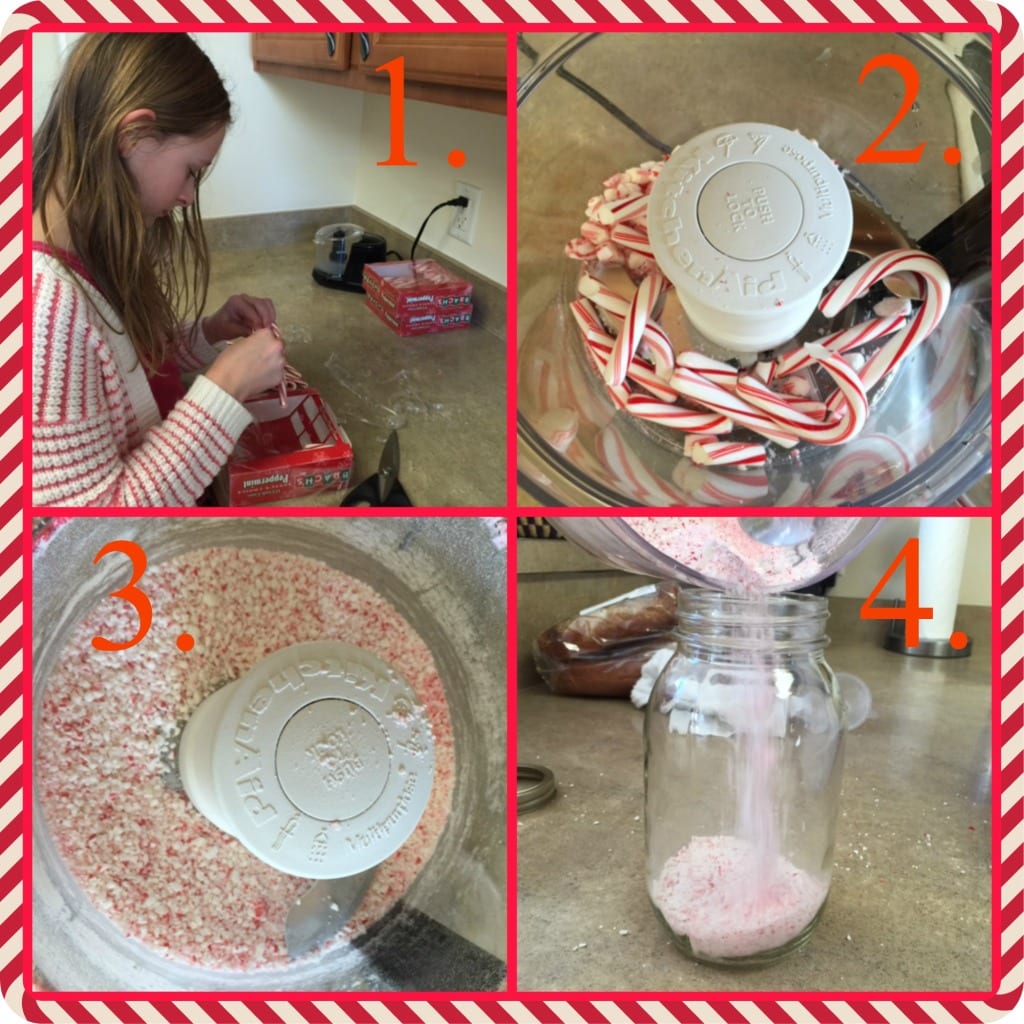 Enjoy! If you want to add cute little labels, download and print this template I made for the mini-jars. Merry Christmas!