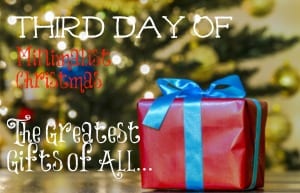 You give but little when you give possessions. It is when you give of yourself that you truly give. –Khalil Gibran
Gifts of our time, energy and talents are generally the most precious and appreciated by those we care about. While it is nice to represent our feelings with tangible gifts at special times, there are so many ways we can give of ourselves to those we love in non-material ways.
Below are some ideas for non-material gifts you can give to those you love at this time of the year, and beyond.
-Read a book together.
-Make a special dinner to share.
-Offer to do service like yard work or housecleaning.
-Babysit if they need to get out.
-Use your professional talents or abilities to help.
-Go for a walk together.
-Play a board or card game.
-Take time to just listen.
-Write a letter or send a card.
-Share an experience with them like a concert or museum.
Enjoy this holiday season by focusing more on giving of yourself and your time to those you love, rather than rushing around trying to figure out what you can buy that will demonstrate how much you care.
If you have children, please enjoy this Christmas Coupon Book to download and print.  It features coupons that involve spending time with your children and makes a great stocking stuffer!