Whether you are just getting started and looking for light decluttering to do for a few minutes each day, or if you are a seasoned minimalist and realize that you need to manage clutter creep that has built up in your home, this list provides some ideas and places to begin that won't require a lot of time or mental effort when it comes to letting go.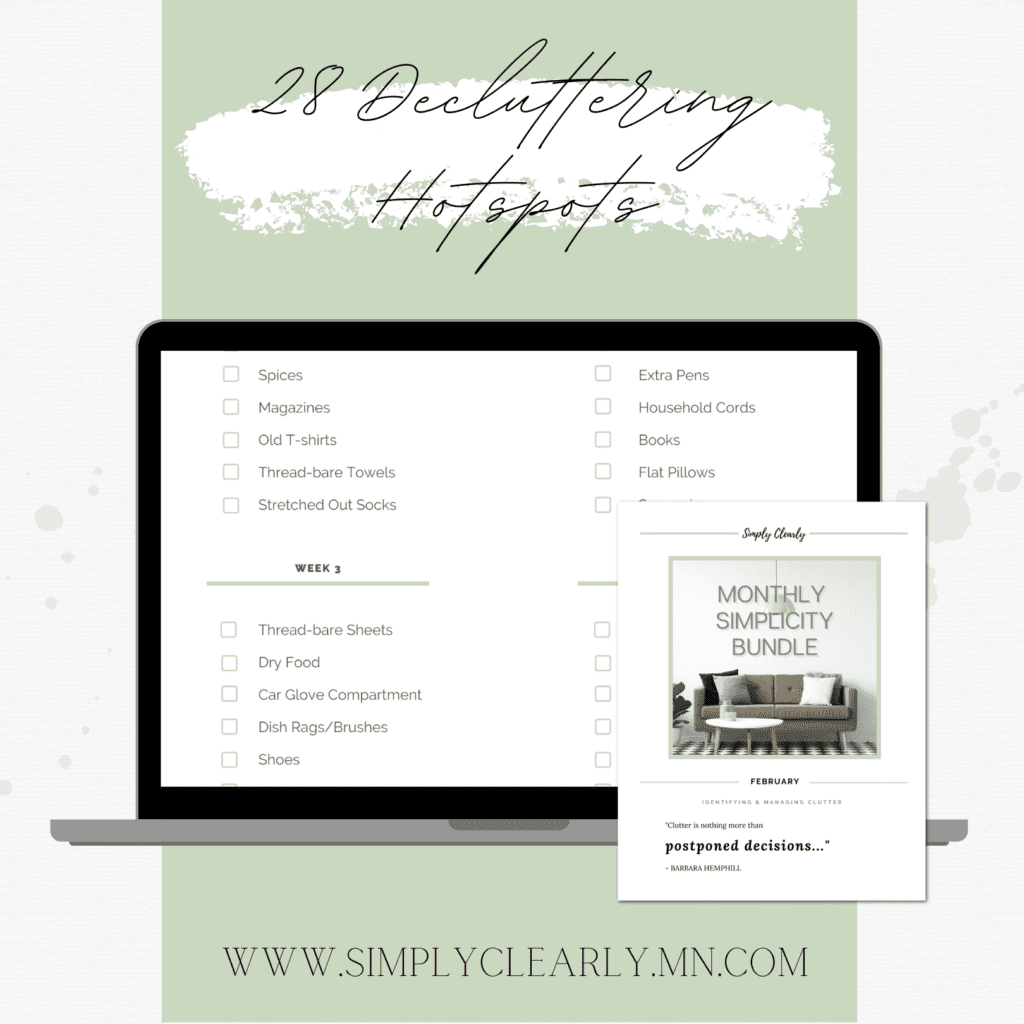 Go through one area each day on the list below throughout the coming month to make decluttering progress in highly visible spots that will help you build momentum. To manage clutter creep is an ongoing part of the minimalism journey. Be sure to join the Simply Clearly community group to get the free printable checklist of the 28 days decluttering hotpots, as well as the rest of February's Simplicity Challenge Bundle all about decluttering.
Week 1
Day 1 – Makeup and Lip Balm
When was the last time you checked the dates on your eye shadow or compact powder? Expired makeup can do more harm than good for your skin. Throw out any makeup expired longer than 3 months. Open the caps on your lip balm and check to see if it is melted, lint covered or almost gone. Get a free cosmetic declutter guide here.
Day 2 – Car Doors
Car doors can be a catch-all, especially if you have children. Take a few minutes and clear any trash, wrappers, toys and more that may have been stuffed into your car doors, then wipe clean.
Day 3 – Spices
Ground spices have a general shelf life of 1 to 2 years, after which the taste and flavor decreases substantially. Don't be afraid to throw out any spices that are past their expiration. Dried herbs have a general shelf life of 3 years. Consider getting rid of seasonal spice combinations. Next year's pumpkin or apple pie will thank you.
Day 4 – Magazines
Magazines still arrive in our mailboxes on a regular basis, even with so many purchases being digitally based. Add your name to these lists to declutter unwanted magazines –
Day 5 – Old T-Shirts
We all tend to hold onto a few old t-shirts for special projects and laundry days. But, extra tees can easily get out of hand when you accept every promotional t-shirt that is handed to you. Keep just a few of your most comfy t-shirts and donate the rest.
Day 6 – Thread-bare Towels
One of my earliest decluttering sprees had to do with getting rid of towels. Somehow, they tend to accumulate over time. Choose how many towels your family reasonably needs, and get rid of the rest. Don't keep them for 'extra', or because you want to cut them up for dish rags someday.
Day 7 – Stretched-out Socks
There is nothing worse than taking a jog or walk, and having your socks work their way down your ankle or leg, and bunch up inside your shoe under your foot. I'm not sure, but it could be a form of torture. Do yourself a favor and throw them out before you accidentally put them on again!
Week 2
Day 8 – Nail Polish or Nail Files
Whether or not you use nail polish, you probably have a plethora of nail files, clippers, buffers, cuticle trimmers and more as they come in sets of multiples. Unfortunately, these personal hygiene items can't really be donated unless in their packaging, so give to family and friends if needed, or simply throw them out.
Day 9 – Unused Pet Supplies
Pets are family members, and if you treat yours anything like I do, you probably have multiple blankets, a big basket of unused toys, various sizes of toothbrushes, medications and more that are no longer used. Take a few minutes to throw out shredded or unloved toys and expired medications.
Day 10 – Extra Pens
As with many items that are sold in multiples, pens are one of those home office items that can quickly get out of hand. Go through your current supply and throw out any pens that are not your absolute favorites, or are so old the ink is dried out. Office items are by far one of the biggest culprits when it comes to needing to manage clutter creep.
Day 11- Extra Household Cords
In our home, we have a smallish wooden box filled with cords that we go through every time it gets full. In this age of technology, it seems like duplicate cords abound with each new item that needs to be plugged in. If you have a similar holding area, go through it and get rid of the duplicate, or triplicates of any cords you may have. If you don't have a central cord storage place, consider rounding up all of the loose cords in your home and keeping them in one spot for easier access, and easier decluttering.
Day 12 – Books
Books were initially difficult for me to declutter, but now that I have pared them down significantly and switched to using a Kindle, it is easier to get rid of the one or two that have usually been gifted to me at some point, and that I have read and am ready to part with. If you have already declutter your physical books, consider using today to unsubscribe from newsletter lists, or remove digital books from your ereader if you use one.
Day 13 – Flat Pillows
If you are like most people and have pillows for your bed, as well as throw pillows, it is inevitable they will eventually go flat. Check the pillows throughout your home, and get rid of any flat pillows for which you can't replace the filling. If it is a bed pillow, consider replacing it with a washable Bamboo pillow that will fluff back up. For throw pillows, consider purchasing only those with zippers, so you can purchase a more sustainable insert when they need to be replaced.
Day 14 – Souvenirs
Souvenirs. You know you have a few around the house that don't transport you back in time to whatever you were doing when you purchased them, to remind you later. Let go of them, and hold onto the memories.
Week 3
Day 15 – Thread-bare Sheets
Unless you have a sewing machine and know how to reinforce and patch fabrics, I would recommend that you go ahead and donate your old sheets to either an animal shelter if they will take them, or to a thrift store that recycles cloth materials and sells them to various companies that use them for filling.
Day 16 – Dry Food
Just like canned food, dry, boxed food can accumulate over time when we purchase extras when there are discounts or we make purchases based on foods we thought we'd like to try or incorporate into our meal plan. Take these foods that are not yet expired and donate them to a food pantry so they go to good use.
Day 17 – Car Glove Compartment
The car glove compartment is one of those places that should be cleaned regularly if you store extra napkins, snacks, insurance and registration cards and incidentals inside. Be sure to keep all your vehicle documents updated, and consider getting rid of the owner's manual. Most instructions can be found online now.
Day 18 – Dish Brushes
Dish brushes are one item that we tend to keep around for longer than we probably should in my house. We also have brushes of different sizes for various items. Like a vegetable brush, a metal straw cleaning brush, a cast iron pan scrubber, a water bottle brush and everyday dish brush. For hygienic purposes, it is a good idea to replace these brushes when they start falling apart, or the bristles are bent and stained with food. Or, if they just need to be cleaned, consider sanitizing them.
Day 19 – Shoes
If you are a seasoned minimalist, you may not have any shoes to discard, in that case, well done! But, for many of us, there is usually a pair of shoes, garden clogs, hiking boots, flip flops or slippers in our closet that we just aren't making use of anymore. Get rid of your least loved and used pair or two.
Day 20 – Chipped Glasses and Extra Mugs
Take a quick look through your cupboard today and pull out any water glasses that are chipped around the edge or mugs that you don't use. Most of us have our favorite glasses and mugs that we reach for, so clean out your cupboard and make room for the ones you enjoy most up front.
Day 21 – Hair Ties/Combs
Grab your extra hair ties that are a little too stretched out, or hair combs that have bent teeth or have seen better days and toss them out. If you don't have any that need to be discarded, spend some time sanitizing your hair brushes and combs today.
Week 4
Day 22 – Tarnished Earrings and Necklaces
Earrings and necklaces that have lost their coating of silver or gold and become tarnished should have the hooks or backings replaced if you intend to keep wearing them, but more often than not, they end up sitting in our jewelry boxes. You can either throw them out, or donate them  to a thrift store. The Goodwill and Salvation Army package up jewelry into bulk bags that crafters can purchase.
Day 23 – Purse/Wallet
One hotspot that can almost always use decluttering is your purse or wallet. If you carry a purse especially, be sure to spend a few minutes clearing out old receipts, hair ties, duplicate lip balms, loose change any other items that have been thrown in over time. Better yet, clear out your entire purse and use a damp cloth to clean out all the pockets and inner lining for a real refresh.
Day 24 – Card Games
I don't know about you, but my family tends to have multiples of the same card games, whether it's UNO, Phase 10 or playing cards. Over time, we inevitably lose a few cards here and there, and end up purchasing a new deck to fill in the gaps. Games are a great area to declutter, whether you are getting rid of old games you don't play anymore, or consolidating cards into one deck and getting rid of the rest.
Day 25 – Digital Files/Pictures
Digital files and pictures saved on smartphones may just be the new bane of our existence. Trying to keep up on deleting old pictures, or duplicates feels like a major undertaking. Today, enjoy a cup of coffee or your favorite tea, and devote just 10 minutes to scrolling through your phone pictures or Google Drive and deleting any files not worth saving.
Day 26 – Canned Food
Canned food is one thing you will most likely always have a few extra of on hand. Whether you bought a specific item for a recipe you didn't end up making, or stocked up on evaporated milk during the holidays when it was on sale, but now the expiration is nearing, there is usually always a food pantry that is taking donations.
Day 27 – Extra Cooking Utensils
Everyone has their favorite wooden spoon or silicone spatula, so make sure when you go through your extra cooking utensils, you don't get rid of someone else's favorite item. But, do get rid of duplicates none of you use. Take a look at your eating utensils as well and throw away any that got caught in the garbage disposal or bent in some way.
Day 28 – Loose Buttons/Wrapping Paper/Old Batteries/Etc.
It's the last day of our 28 days of decluttering, and it's time to do a sweep for items around the house, usually found in drawers and closets that need to be discarded. Everything from the extra buttons that come with clothing you bought but don't own anymore, to wrapping paper you won't use next year and old batteries you took out of the remote but you thought still had juice. Gather them all up and toss them out.
Hopefully this month's simplicity challenge bundle, and this list, have helped manage clutter creep that builds up for each of us over time. Whether it is due to purchasing duplicate items or just because our needs change over time, managing our belongings on an ongoing basis is all part of the minimalism journey.