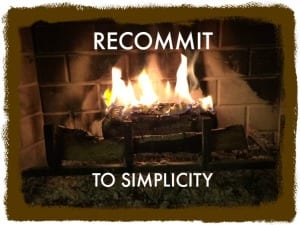 Simplifying your life can come with majestic peaks and low valleys. During the best of times, with excitement and adrenaline on your side, you find yourself easily parting with items you no longer use or value. You are able to pass by items as you shop that you may have previously been tempted to purchase. Other times, the holidays being one of them, can lead to a decline in momentum, a slight loss of purpose and a slide back into the societal acceptance and expectations of consumerism.
With Christmas around the corner, now is a good time to recommit to simplicity and refocus your efforts and thoughts on those things that originally brought minimalism and simple living into your life. Climb to the top of the simplicity peak once again.
Use these four ideas to help you regain your focus and recommit to living a simpler, more minimal lifestyle-
Focus on the bigger picture.
Reevaluate your motives.
Practice gratitude.
Use the one in, one out rule.
-Focusing on the bigger picture of life beyond the current day, or season of the year, can help us remember what is most important in our lives. Once the excitement our society has over extreme purchasing during the holidays has subsided, people are more clearly able to see the detrimental affects such as increased debt, and an over crowded home with items they didn't necessarily even want, let alone need. Keeping your focus on family and friends, as well as service and thoughtful giving during this holiday season, and year round, can help keep simple living in check.
-Reevaluating your original motives and reasons for living a simpler, more minimal lifestyle can help you recommit and avoid getting caught up in the consumerism that tends to creep in during the holiday season. If your original goals for simplifying included more space in your home and less emphasis on things, with more emphasis on people, try to keep those goals in the forefront of your mind as you plan activities and make purchases for those you care about during the holidays.
-Practice gratitude. Each day is a new opportunity to remember the blessings and good things in your life right now. Take some time daily to think about some of the small and great things like beautiful weather, health, family and friends, a smile from a neighbor, the opportunity to help someone, an interesting book, good music, a warm fire or any other things in life that bring you happiness or learning.
-Use the one in, one out rule. For most people, it's inevitable that you will receive some gifts this holiday season. Hopefully, they will be gifts that will enhance your life and provide new experiences, but there is also a good chance that you will receive items that just won't be useful to you. To avoid accumulating clutter in your home be sure to use the one in, one out rule. Every time you receive a gift, evaluate whether it will truly add value to your life, and if it will, consider removing an item from your home that no longer has as much value as it once did, and replace it with the new gift.
Don't wait for the New Year to recommit to simplicity, now is the perfect time to take a deep breath, refocus on what is truly important in life and regain the initial momentum and excitement of living intentionally.
If you enjoyed this post, you may want to consider signing up for my emails, which will include the 12 Days of A Minimalist Christmas series starting December 12th. Receive 12 days of simple ideas and thoughts to help keep your Christmas simple and focused on what really matters.