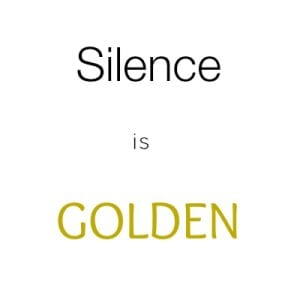 Silence is often misunderstood because of the meanings we attach to it, both individually and as a culture. We are brought up to expect noise, a rushed pace, constant conversations and interactions. When we come across people who are quiet, we tend to think their silence must indicate one of the following-
They are unfriendly.
They are mad or sad.
They are shy.
They are arrogant.
They are tired.
What if we attached a different meaning to their silence? Perhaps one of these-
They are observing.
They are listening.
They are thinking.
They are valuing others words.
They are content.
Maybe silence would lose the awkwardness associated with it if we realized it as a beneficial thing, maybe even a necessity for our inner self. Pythagoras summed up the value of silence when he said, "Silence is better than unmeaning words." Today, enjoy a few minutes of-
Silence.
I'll leave you with another gem of wisdom, and a favorite song, from The Tremeloes, "Silence is golden, but the eyes still see."