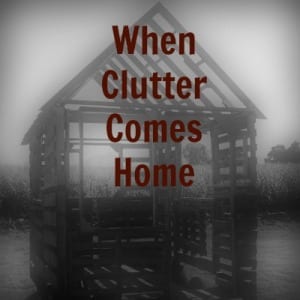 All of us are at different levels of simple living or minimalism in our lives. We may have different views of what is clutter and what is not. Our needs and desires vary widely and what may be a necessity or useful to one person would be considered clutter to another. This holds true on a cultural basis, a family basis and on individual levels. I realized this intimately this past week, when my beloved husband brought home what I would view as clutter, but he viewed as useful. The scenario reminded me of the time I switched all of our detergent and cleaners to homemade products, you can read about that here.
My husband doesn't think about living simply, not like I do, with intention and careful consideration of each purchase before it's made. But, he is a supporter of the simpler lifestyle and is mostly supportive of my decluttering and minimizing. However, once in a while I think it hits him how we really are living differently in a material sense than others, and he feels the need to go consume. In fact, I think that feeling came over him this past weekend. It may have been because I got rid of two rather large pieces of furniture in the past couple of weeks, leaving what would seem like an unnatural gaping hole of space to a non-minimalist. He didn't purchase anything to fill that particular space, but he did purchase other rather large items.
For instance, one of the purchases my husband made this weekend was a new bedding set. You know, one of those gigantic bags with the blanket, bed skirt, 6 pillow shams and throw pillows of various sizes and colors. We hadn't talked about buying a new set, we have perfectly comfortable blankets already, and when he brought it in, I immediately thought, that is just extra stuff and it is going to be annoying dealing with all that pillow clutter.   However, once the set was on the bed, my husband made the comment, "There, that looks more inviting now", and I realized that he has been missing that feeling of warmth and coziness in our home as I have gotten rid of many of our decorations, couch throw pillows and knick knacks. His personal style of simple living still includes the 'cozy' factor.
Another example of differing views on simplicity in our family is with my children. They have all embraced some form of my simple living ideas and love to point it out to me when they are 'minimizing' or decluttering their stuff. But, as kids they also still like to have every bit of artwork and school work displayed and their stuff within easy reach around their room, even if they aren't using it. My twelve year old daughter cleaned her room extremely well last week, but then remarked to me that she couldn't find anything because she didn't know where it was when it is all put away! My eight year old is a bit more naturally included towards organization and likes to show me when his clothes are organized by type in his closet. My middle child, ten-year old Andrew is easy going and a mix of both his older sister and younger brother. I can always count on his room to be mostly clean and organized. He does love taping stories and drawings on his walls.
As a simple living advocate with a family, our home has to be comfortable for all of us, not just me. As the main decorator in our home, I need to make it feel inviting to each one of us, and this past weekend, I was reminded that what is 'inviting' is different for each person. When someone you love brings home what you think of as clutter, before responding, take a look at why they may 'need' it or find it valuable. Maybe you are infringing on their comfort level with your simpler living and it may be time to give them some space.