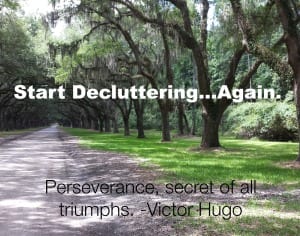 I realized a few days ago that I haven't really decluttered in a while. I mean one of those stress relieving, sit down and go through everything, type decluttering sessions that leaves you feeling extremely fulfilled and relieved. I've tossed a few things here and there over the past few months, but I've taken a bit of a break from actual decluttering sessions. Maybe it's because New Year's is around the corner, or Christmas is only a couple of weeks away, but I'm feeling the itch to get started again. I've had some clutter creep in over the past while, so I plan to start in those areas. If you are just starting out with decluttering, the same areas are a great place to exercise your decluttering 'muscles'.
Under the bathroom counter and bathroom drawers. This seems to be the hotspot for me with clutter creep. I find nail polish, empty bubble bath bottles, loose hair ties and hair products that are just floating around, not being used. It feels great to get rid of all the products and items I haven't touched in the past few months and make space so I can easily access those things I use on a regular basis.
The kitchen pantry. I try very hard when I grocery shop to purchase only those items that are on my list, and on the menu. I still find myself purchasing items that have peaked my 'cooking curiosity' now and then. New foods or spices that I'd like to try, or items that look extremely healthy that I think I should fit into my menu. These things build up over time if you don't actually use them. When decluttering the pantry, I usually make a week menu with all these unused items on it, and at the end of the week, whatever is left and unopened goes to the local food bank.
Home office area. I do really well at keeping surface areas like my desk cleared off, but the drawers are another matter. Because it is more like a family desk, the drawers tend to get easily jumbled with paperclips and pushpins mixed together, and somehow all my working pens have mysteriously vanished. I also have a drawer with a file folder for papers and receipts that either need to be filed or scanned in that tends to become overfilled. These areas are where I concentrate my decluttering efforts. Some of it is just organization, however, even while organizing I am getting rid of pencils that are too short, pens that are out of ink and half of the pushpins we aren't using anyway. Going through the paperwork takes some extra time if you don't have a regular schedule, but it is well worth the effort of having a clean drawer with few easily accessible important documents.
In an ideal world, we wouldn't experience clutter creep, but life gets busy and we find ourselves just a little too rushed, so we tend to let things slide for a while, decluttering included. It's time to dive back in to the process. Start with those areas where you tend to accumulate items but don't use them.   Set aside some time and go through each area, discarding what you haven't used in the past three months. Your decluttering habits will resurface and you'll find the motivation to continue the process in other areas of life.
Where in your home do you tend to have 'clutter creep'?