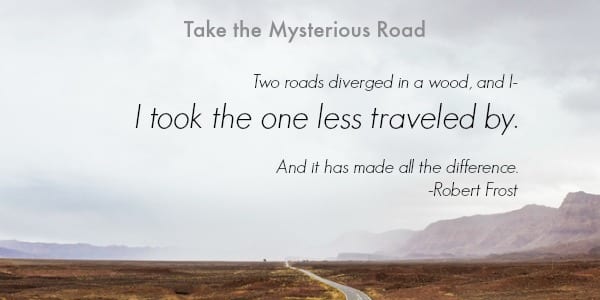 When I was a kid, living 20 miles out of the nearest town in the undeveloped Mojave Desert, I was always filled with an overwhelming curiosity to explore the winding dirt roads that were little more than trails branching off of the 'main' dirt roads in the valley. They held such excitement, the unknown, what would be at the end of the them? What would I find? I've often wondered if it is the same feeling that drove the early world explorers to sail off into uncharted oceans and seek out new unmapped locations around the globe.
One of my all time favorite poems is 'The Road Not Taken', by Robert Frost. It speaks to my inner self and drives me to seek out positive change in my life instead of sticking with the old and familiar, to explore those mysterious roads I find.
The road to simplicity and minimalism in my life has been one of those paths that is less traveled and mysterious to many, but that I chose to take several years ago. Along the way, I've been pleasantly surprised by what I've learned and the experience I've gained while going down the road of simple living.
Fewer physical possessions equals more time in life. We don't realize until we remove items in our lives, just how much time we spend thinking, caring for and buying new 'stuff'.
The benefits of simple living overflow into all areas of life. Once you simplify your physical items, you will naturally start simplifying other areas like meals, obligations, purchases and even relationships, creating a life filled with what is truly important to you.
Experiences become much more valuable. Once tangible goods no longer hold the same level of excitement of ownership, you find that experiencing new places, making new friends and placing emphasis on 'doing' rather than 'having' makes life much more fulfilling.
Consider your own path in life. Are you sticking to the well-worn paths and roads blazed by others before you because they are familiar? Are they taking you where you want to go in life, or are you going to end up at someone else's destination? My favorite passage in Frost's poem is at the end and reads-
Two roads diverged in a wood, and I—

I took the one less traveled by,

And that has made all the difference.
Take your own mysterious road and it may make all the difference in your life.
Photo Credit: Laura Fox at In the Loupe Photography