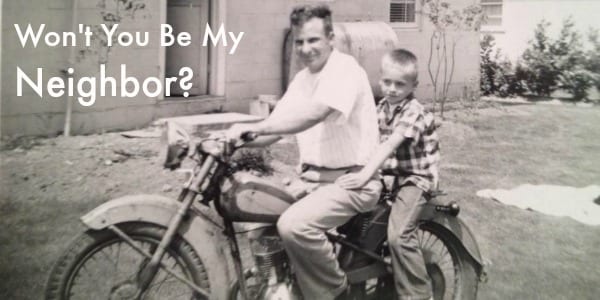 I've always loved the idea of those old time neighborhood friendships like the ones you see on rerun episodes of  'I Love Lucy'  and  'Andy Griffith', that depict neighbors who know each other so well they can pop on over at a moment's notice and ask to borrow eggs and sugar, clothes or pretty much anything they need.
My own mother reminisces about her hometown in Idaho where she could walk into anyone's house on her street as a kid because everyone knew each other so well. There wasn't much trouble either around town because everyone knew each others schedules and could see when something looked odd or out of place.  I always envisioned something along those lines for my own family, but, our society just doesn't support it anymore.
Today, in the majority of US neighborhoods, Pew Research reports that only 43% of people know their neighbors, leaving more than half of us who would never feel comfortable knocking on a neighbor's door and asking to borrow their lawn mower or a couple of eggs.
This isn't just happening in the U.S. either, many developed countries including Australia and Great Britain are seeing the same type of disconnect in their communities.
This is an unfortunate occurrence and as I thought of possibilities to explain why we gave up neighborhood friendships and opted for a type of social isolation, I came up with a few cultural changes that could offer an explanation.
Why Don't We Know Our Neighbors?
-We move more often than we used to.  Most of us no longer work at the same job for 30-40 years and then retire. We move much more frequently when we switch jobs, which also means we change neighborhoods, making it more difficult to build close, lasting friendships.
-Women have joined the workforce.  Prior to the 60's, a large majority of women were still housewives, which made it easier to meet and interact with the rest of the women home each day living on your street, as well as keeping an eye on each other's kids and borrowing day to day items.
-Electronic devices have taken the place of in person interactions.  With the Internet moving into pretty much every home in developed countries, as well as the constant usage of cell phones and tablets when we are out in public, we are replacing our face to face social interactions with electronic interactions.
-People are more fearful of getting to know strangers.  With the increase in local and national news reporting on TV, we are more exposed to atrocities and violence that occurs. Even though the statistics may not be much different from years ago, we are more aware of those acts of violence that do occur, making us overly sensitive and wary of getting to know those around us.
-Children don't play outside like they used to.  Children meeting each other at school and playing out in the neighborhood with each other afterwards used to be a great way for parents to meet each other and help each other with child rearing. Frequent moves, video games and increased fear of kidnapping and abuse keep our children inside our homes instead of having personal interactions with their peers outside of school.
Maybe we didn't mean to shift towards isolating ourselves from each other, but it has certainly happened. What can we do to make it comfortable and 'normal' again to reach out to our neighbors? Why should we?
'It takes a village', is still just as relevant today as it was in the past when we actually lived in small villages and daily living tasks like hunting, caring for children and cooking were divided up by gender and age. Though we have changed to taking care of ourselves as individual families, we still require a whole 'village', or community to stay alive.
For instance, most of us purchase food grown by others, we utilize day care centers, public schools and extra-curricular activity centers to help teach and raise our children. We also go to places of work and worship where our interactions with others help sustain us financially, physically and mentally.
We may not think about it, but we do still have a 'village' mentality, and it takes more than just ourselves to live, have relationships and raise our children. Neighbors are another aspect of that 'village' that provide value, and sadly, most of us are not taking advantage of that benefit in our lives.
In case you aren't sure what the benefits would look like from knowing your neighbors, here is a list to make it easy-
Reasons You Should Know Your Neighbors
Increased safety.  It's just a good idea to know the names and faces of people who live in your neighborhood, for the simple reason that you can then recognize those people who aren't local. There is a saying that goes, 'keep your friends close, and your enemies closer.' While you hope your neighbors will be your friends, on the off chance that they are not, you will still want to know who they are and how they live.
A built-in house watcher.  Neighbors are usually happy to keep an eye out for anything or anyone suspicious around your home while you are gone, they will also do nice things for you like water your garden or feed your fish.
Someone to chat with over the fence.  Who knows, your neighbor might become a friend for life if you give them a chance. Enjoy a chat on the weekend while you wash your car or work on your lawn.
Emergency help.  If something goes wrong and you need someone you can trust immediately, a neighbor can help take care of your children, pets or belongings in a matter of minutes.
A great resource.  Have you ever needed an extra blow up mattress for guests, or a bicycle pump when you realized yours was broken? How about something like an extra egg for a recipe you're in the middle of making? Knowing your neighbors well enough to ask if you can borrow simple items is a great resource.
Hopefully these reasons give you something to think about as far why it would be beneficial to you to meet and try to make friends with your neighbors. If you aren't sure how to go about striking up a conversation with them, consider some of these ideas for becoming active in your neighborhood.
How To Meet Your Neighbors
-Become active in your HOA if you have one.
-Holidays are a good time to meet neighbors. Set up a Halloween table where parents and children can gather and chat or organize a Trunk or Treat. If you have trees in your neighborhood, consider organizing a Neighborhood Christmas Tree decorating party.
-Visit local parks near your home to meet parents of children who live close by.
-Smile and wave and your neighbors.
-Ask for yard advice when you are both out working on your lawns.
-Join the PTA at your children's local school. There should be other parents there who live in your neighborhood.
-Host a fundraiser car wash in your driveway and introduce yourself to those who show up.
-Organize a neighborhood garden.
-Organize a neighborhood pre-school rotation with parents who are at home with young children.
-Start a neighborhood game night.
-Knock on the door and introduce yourself.
-Take evening walks, or weekend walks in the morning, everyone seems to be out and it's a great time to introduce yourself.
-Have a garage sale, everyone loves a good deal and some of your neighbors will most likely stop by.
What If Your Neighbors are 'Questionable'?
You may be thinking to yourself, this is all great, but my neighbors are a bit on the 'questionable' side. I'm not sure I WANT to get to know them due to what their lifestyle looks like on the outside. If you have neighbors that are a little 'rough around the edges', you should still consider getting to know them.
It is always better to have more information than too little, know names and faces, and lifestyle habits than to assume a person is a certain way judging by their appearance or how the outside of their home looks. One reason is good enough to know your neighbors, and that is safety.
Take some time to get to know your neighbors, you'll be safer, possibly make some life long friends and expand your 'village'!