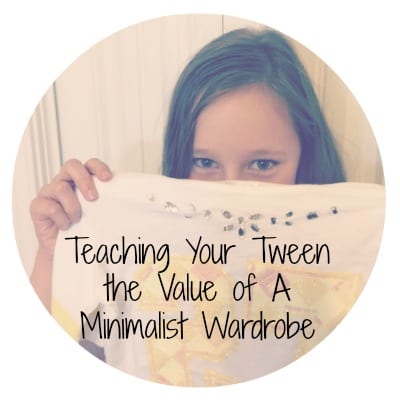 You may have a tween, or you may have children who are older or younger, but these principles can apply to any age range and help you teach them the value of shopping for clothing with a minimalist mindset.
This past weekend I had the opportunity to spend some extra time with my twelve-year old daughter and do a bit of clothes shopping for the upcoming summer season. She was really excited and as a typical twelve-year old girl, loved almost every item of clothing in sight, especially anything neon colored. Trying to practice a minimalist wardrobe with a girl who is 'coming of age' can be a bit tricky, but with a little bit of planning and pre-shopping conversation, it can be fun and much easier than you think.
If you have a tween who is just starting to explore the world of style and fashion, or if you are looking to teach your younger children the basics of wardrobe shopping with a minimalist attitude, use these tips to make it a fun experience for the both of you.
-Go through their current clothing first. Before you head out for the big shopping trip, take some time and go through their current clothes and get rid of items that are torn, stained, too small or no longer worn. It will be much easier to see exactly what items they are really in need of instead of just guessing when you are at the store. Do this together and get their input on what items should be kept and which should be discarded.
-Make a list of items needed. In my daughter's case, she had outgrown all of the previous summer's clothing, and the weather is warming up here, so we were in need of a new set of clothing. My general rule is 3 pairs of bottoms and a summer dress, along with 5-7 tops. I expect that she will wear the bottoms a minimum of two times each per week before they need to be laundered. Before we leave the house, we have a list of pieces we are looking for, as well as a good idea of colors, since we just went through her whole wardrobe.
-Pick bottoms out first. Whether we are shopping for shorts, pants or skirts, we always pick the bottoms out first. Because they are going to be worn the most, you want to make sure they will mix and match will all the tops, layered pieces and any accessories. My daughter really likes bright colors like blues; salmon and yellow, so I make sure she also chooses a neutral bottom as well like a basic blue jean.
-Choose material and colors that can be laundered together. My daughter is learning to do her own laundry, and it has been difficult for her to keep up on it when she has to separate her clothes into loads with 'glitter and sequins', loads with knit materials and another load for basic cottons. She usually gets through a couple loads and decides to do the other delicates later, but doesn't end up getting to them that often, so they don't get worn too often. Choosing clothing that can be washed together at most in two separate loads is a good way to go for kids.
-Teach them to use accessories. This probably applies to mainly girls, but teaching them early on about accessorizing their outfits instead of purchasing lots of separate clothing pieces is a great way to let them stretch their style possibilities while keeping their wardrobe to a minimum. Keep the accessories to 4 or 5 choices so they don't get overwhelmed with choices until they find their personal style.
-Make sure they LOVE the piece. You'll probably be tempted to purchase some clothing for your tween that you know they look cute or stylish in when wearing. However, if they don't LOVE it themselves, don't make the mistake of spending money on it. You want to teach them to purchase only clothing pieces that they absolutely love and will feel great wearing everyday. Even if their style isn't your own personal style, let them make their own clothing choices (within reason, of course). Get excited with them when they love something!
-Teach quality over quantity. Depending on your financial situation, you may have the opportunity teach that it is always better to spend your money on a quality piece of clothing than on more items of clothes at a cheaper price. If possible, discuss a budget for the clothing your tween needs, and then discuss quality of different options when you are out looking. Compare clothing seams, quality of zippers and types of material to help teach them about looking at the quality of items.
-Be an example. One of the best things you can do to instill good clothes shopping habits in your tween is to be the example. That means taking them with you when you need clothing and let them see you make intentional decisions about the type of clothing you purchase, how much you spend and whether you really love an item or just like it. Make sure they see you put the 'one in, one out' rule into practice when you bring a new item home that is replacing something else in your closet.
Cultivating good shopping habits for clothing and other purchases early on is key in helping kids grow into adults who consume intentionally and are careful with their purchases. Teaching them to also stay within a budget and only purchase those items they have predetermined they need will help them avoid impulse buying, or at least be able to recognize the urge when it hits. Teaching your child to shop intentionally and minimally will also help keep you on track as a parent and more aware of your own purchasing habits.