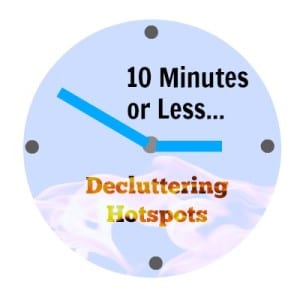 Short on time but want to do some decluttering over the weekend or even on a weeknight? Here's a list of spaces in our homes that seem to collect extra stuff on a continual basis. The best part? They can all be decluttered in 10 minutes or less.
-Bedside table stand. This area seems to collect piles of books or magazines that you have been meaning to read, extra pens and pencils, water cups and more. Take a few minutes and return everything to it's proper home and dust off the table for a serene bedtime space.
-Apps on phone or tablet. Take ten minutes and delete apps that are on your electronic devices that you downloaded to check out, but don't use anymore. This includes games your kids don't play, organization apps you stopped using and those fun ones you haven't looked at in months that edit pictures or tell you what your chances are to win the lottery. Your phone will perform better and you'll save the battery.
-Front of refrigerator. The refrigerator doors tend to become the catchall for kid's latest drawings, homework from school, announcements and invitations and your co-worker's kid's school pictures. Clear the whole fridge and put back only the latest kid's drawings or grade reports, and any announcements that aren't out of date. If you want to be ruthless, get rid of all your magnets so you have no way to put anything back up at all. Your co-worker's will never know you didn't keep their child's photo, and if you really want it, stash it near the scanner so you can scan it onto your computer, or better yet, take a quick photo of it using your phone's camera.
-Condiments in refrigerator doors. If you've already cleared the front of the fridge, go through your condiments. We've all got those salad dressings we thought we'd like that are six months old, or the plethora of mustards ranging from horseradish to honey mustard to sweet mustard. Toss all the condiments you don't use, don't wait until they expire, telling yourself you'll use them before then. You'll welcome the extra space and you won't give them a second thought by the end of the day.
-Board game closet or shelf. Take a look at your board and card game area and pull out all the games you haven't played in months or even years. If your kids are teens, you probably don't need Candyland anymore, and if your Monopoly game is missing half of the money, it's probably time to get a new version. Consolidate your two decks of UNO and find a new home for the Pick-up-sticks. Better yet, if you have friends that are willing to swap games, you could do that and end up with some new exciting ones to try out.
-Hair accessories and products. These seem to accumulate no matter what we do to shop intentionally. There is always a new leave-in conditioner, a better hair paste or gloss serum we want to try out. Aside from products, women tend to store way too many hair accessories like bands, bobby pins, and clips. Go through this area of your bathroom and get rid of every product and accessory you haven't used in the past six months. You won't miss them.
-Reading materials. If you haven't switched over to an electronic reading device, you probably have lots of books, magazines and possibly newspapers around the house. Go through the piles on your coffee table, end tables or wherever else you keep them and toss the magazines and newspapers that are months old that you thought you would get around to reading. Go through your books and be honest with yourself, how many have you even looked at in the past year, or years? If you've got a whole library, this will definitely take more than ten minutes, so limit it to just a shelf, or just magazines and newspapers for now.
-Children's stray toys. I'm not suggesting an in depth toy box cleaning here, but just dig down deep and you'll find that spot at the bottom where all the little broken plastic toys live and are never seen again, unless you declutter. Grab them all and toss them, or if they are little items like toy cars or figures, put them in a ziplock and throw them in the donate bin.
-Canned and dry food items. Every time I used to go through these pantry items, I probably spent at least ten minutes fighting with myself, vowing to use the food before it expired. Not anymore, after a few times of doing that, and still not using it, I've started checking expiration dates, and if it expires in 2-3 months, I donate it to the local food bank. This removes unneeded pressure every time I open the pantry and see the item and helps me be more intentional when I am food shopping, making sure I don't purchase items I won't use.
-Craft bin. If you have children, you probably have a craft bin. Chances are, you may have some dry glue sticks, cut-up craft paper, broken crayons and dried out paints. Take a few minutes and get rid of all the items your children having used in a long time, or that aren't usable anymore. While you're at it, get rid of any pens without ink and pencils that are too short to use.
You don't have to spend hours doing big decluttering sessions to make progress clearing items from your home. Decluttering smaller spaces on a consistent basis will make a big difference.