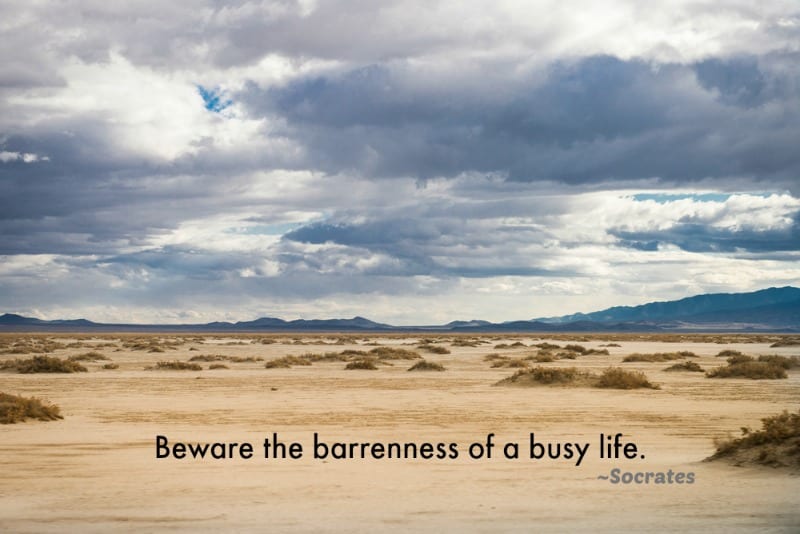 As I sit here and type this out, I can look out our kitchen window where the garden hose looks like a snake, lying halfway across the yard, right where our eight-year old left it after he was done spraying his dirty feet off. In the back of my mind, I know there is still gunk lurking in the tray that catches the water drips after we fill our cups from the fridge, and my sewing box in the hall closet is still overflowing with items that need to be purged. Aside from the never ending list of areas that can be cleaned or laundry that can be done, I also have tasks I want to do like make next week's menu, write a few posts for the blog, research what I can plant in my garden now that it is warming up, get a 3 mile jog in this evening, and the list goes on and on.
What I've noticed about myself is that I am always moving and always thinking about 'next'. Trying to find the next thing that needs to be done, the next area to be cleaned, the next task to cross off my list. Somehow, when I complete it, my life will feel more perfect, more orderly. What is the next best thing I can do and accomplish? What I am realizing is that my life feels next to exhausting some days when I try to accomplish too much. Maybe you've felt this way before, or maybe you are feeling like it now. Either way, I've been making some changes and taking steps in my life recently to try and curb this 'next best thing' thought process, maybe some of them will resonate with you.
Set Time Limits- Most of us work well with routine and schedules. I've found that if I set time limits in those areas of life that could go on endlessly without getting everything done, like cleaning, cooking, checking email or working, I can just focus on the task for the set amount of time, and feel productive at the end of the time period and allow myself to feel 'done' for the day in that area. In the mornings, I give myself 30 minutes to do the cleaning for the day. Whether it is bathrooms, mopping, dusting or anything else, I have 30 minutes then I'm done. I do the same for writing posts, checking email or reading online, basically any of those things that I find myself 'losing my day' in.
Embrace Imperfection- Before I sat down to write this post, I swept the kitchen floor. Just now, my eleven-year-old son came inside from exploring the wet forested area behind our house and tracked a few leaves from his shoes across the floor. I didn't say a thing to him. I'm just happy he is playing outside instead of asking to play video games. I won't be sweeping the floor again for a while, possibly tonight or tomorrow morning, and those little leaves will stay there for now. I've learned to embrace imperfection; it's one of those things that make life and people beautiful and unique. From the wrinkles on a person's face to fingerprints on the walls or a crooked piece of furniture, it is all a sign of life, movement and stories and that is something to be valued. It's okay to leave something undone, the floor a little dirty or an email unanswered so you can enjoy other aspects of life.
Pick Your Top Three- If you are a checklist type person, you may find that you always have a running list of things to do. This can serve you well if you don't find yourself stressed trying to check every single thing off the list every day. I work better when I take a few minutes in the evening to choose the top three things I want to get done the following day. After I pick my top three, I make a list underneath it of things that would be nice to get done, but I'm not going to run myself into the ground trying to complete them all in one day, especially if I just don't have the time or energy. Giving myself permission to have only three main tasks each day helps alleviate hidden stress and actually makes me feel more productive as I consistently accomplish those three tasks.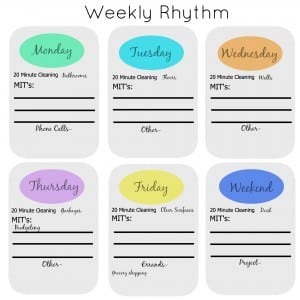 Take A Day Off Each Week- This may seem impossible, after all, who has time to take a full day off from life every week? I don't mean that you don't do anything at all on that day, I'm just saying, don't schedule anything. Pick a day, probably on the weekend if you are like most people, and determine that you won't have a list, commitments or mandatory tasks to get done. You'll just take the day as it comes, and if you feel like doing something, then do it, no pressure, no lists and no obligations. This may mean that you are a little busier on another day of the week, but having a 'free day' is worth it.
Incorporating these things into my life has helped significantly to lower my stress levels, not worry about checking everything off my list, or feeling like I need to be productive constantly. I'm learning that the next best thing is sometimes nothing at all.
Image Credit to my good friend Laura Fox at In the Loupe Photography