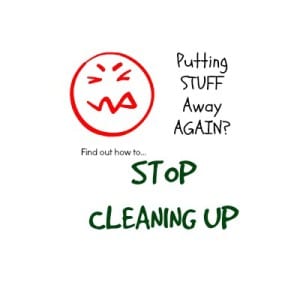 In my every day life, I find myself  'cleaning up' much more often than I clean. In fact, the 80/20 rule applies very well here, in that I actually clean my house only 20% of the time, but clean up my house 80% of the time.  So, what's the difference?
Cleaning involves the actual removal of dirt in our homes and other substances like scum, dust, dried food, stains, dirt and more on the floors, walls, our clothing and any other items we have in our homes. As long as you are a generally clean individual, keeping your home free from dirt and other yucky particles will probably take a minimal amount of time. I only spend around 30 minutes at most per day on home maintenance cleaning.
Cleaning up is the process of putting things away that are found lying throughout the house outside of their designated spot. This can occur frequently during the day in many homes if the habit of putting items away has not been firmly established.
Which do you find yourself doing more?  Cleaning or cleaning up?
Take a look at this list of common items left around the house-
-Purses, wallets and keys.
-Electronic devices.
-Shoes and slippers.
-Children's toys.
-Jackets and scarves.
-Books
-Glasses and coasters.
-Throw pillows and blankets.
Now take a look around and see how many of these items are currently taking up counter and floor space, causing a cluttered look in your home. Imagine how your home would look if these items were 'cleaned up' and consistently put away right after use. How much more time would you have in your day if could get rid of the daily 'clean up', leaving yourself with only general cleaning to take care of?
To permanently rid yourself of the 'clean up' time that you are spending each day, you will need to take several steps consistently in order to establish the habit of putting things away, or leaving no trace.
-A place for everything.  Ideally, you will have already decluttered your home to the fullest extent possible, leaving you and your family only with those items you use and love. Once you've done this, you MUST establish a place for each item in your home when it is not in use. If you find an item that does not have a designated spot, ask yourself why not, and if you really need it.
-Add one minute.  When I first looked at my habits surrounding leaving things out, I found that I always felt like I was in a rush. Rushed when I got out of bed, so I couldn't make it up, rushed when I got ready in the morning, so I couldn't put my brushes and makeup away, rushed when I ate lunch, so I couldn't wipe down the counter. Once I identified this feeling, I consciously added a minute or two to each action, allowing myself to complete the action and replace the item. If I got up at 6:30am each morning, I would get up at 6:28am, so I could make the bed. If I planned for 20 minutes to do my hair, I'd plan for 21 to allow time to put everything away, and so forth.
-Grab box and verbal cues for children.  Many of us have kids who contribute substantially to the amount of 'clean up' needed in a home. It can be a constant chore to try and get them to put everything away when they are done with it. Though it will take time and extra effort, DO NOT clean up for them. Instead, verbally request they put items away when you see them leaving them about, or you can institute a grab box, where anything you find that is left out is put in the box, and the child is required to clean an area of the home in order to get it back. They will quickly learn the 'Leave No Trace' habit.
-Keep surfaces clear.  It is much easier to see items as out of place when a flat surface is normally kept clear. Likewise, it is easy to leave your purse or keys on an end table if it is already home to magazines, cup holders and remote controls. Keeping your surfaces cleared off will make it much more obvious to the eyes when an item is out of place, and will also make it more likely that you will put it away to begin with.
The redundancy of cleaning up and putting away the same items over and over that are continually left out after use is a waste of time and energy, not to mention the often unknown stress that results from living in a cluttered environment. Make the effort to establish a habit of returning all items to their proper home and organized state after use so you can remove 'cleaning up' from your life.