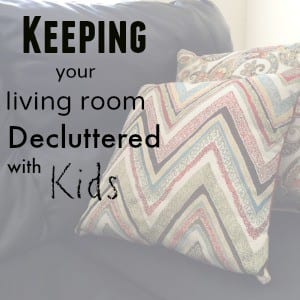 More than likely, if you are reading this you are a parent or grandparent who is trying to figure out how to keep your living room or family living area decluttered of kids toys and other items they bring into the living space. If you take a good look around the room though, how many of the items in the room are yours versus the kids? How many of those items are used regularly and loved? How many of the items are there just to fill a space? How many of the things that you see are items that you think are great, but would be viewed as unnecessary and clutter to your kids? The first step to decluttering your living room of children's items is to start with your own. Basically, you want to start with a clean palette before you tackle the kid's stuff.
-Remove excess furniture. How many pieces of furniture are in your family living area? Are they used? Does it seem like you are working your way through an obstacle course every time you walk through the room? How many end tables do you really need? Is the coffee table there as a catch all space? Are the bookcases crammed with so many books that they are an eye sore? You get the idea here. It's time to get serious and get rid of the excess furniture and open up your space to be used for what it is meant for, a family area.
-Get rid of throw pillows. I know, they are comfy looking, add a splash of color and personality and can make a nice head rest should you ever get to lie down on the couch. They are also a constant pillow fight waiting to happen, something to throw on the floor, a chew toy for the dogs and when you think about it, probably pretty germy. This goes for blankets too. Getting rid of throw pillows and blankets gives your room an instant decluttered face-lift, and will get rid of stress you are causing yourself every time you pick one of them up off the floor and replace it back in it's little corner of the couch. If you aren't sure about this, stash the pillows in a closet and see how you feel at the end of a week. You could also keep a mental count of how many times you pick them up off the floor everyday. That was incentive enough for me to get rid of them.
-Keep one wall clear. One thing that provides a lot of decluttered, visual space is a bare wall. When you are already battling with everyday clutter due to all ages of kids, clutter can be toys, sippy cups, cell phones and tablets, blankets and jackets, shoes and book bags, the list is endless. Keeping one wall bare in the living area creates an automatic feeling of openness and cleanliness. Choose one wall and try it, remove everything, even the pictures.
-Remove decorative items that have no personal value or meaning. You know what I'm talking about here. The little figurines, metal and wooden décor you can pick up at your local Ross and TJMaxx. Fake flowers and ivy vines hanging off of the built in bookcase, and wall pictures of or sayings that you kind of like, but are really just there to fill up space. Unless it has personal meaning to you, take it down and enjoy the visual space. Space is good.
Now that you've decluttered your own items from the family living area, let's take a look at how we can help our children keep it decluttered.
-Give them their own personal space. Aside from the necessary roof over their head, children benefit from having their own area to keep their 'stuff'. Whether they have their own room, their own toy box or even basket, giving them their very own space to keep their special belongings is a great learning tool. They can learn that there is a 'family area' where you do things as a family and keep items that are of value to the entire family, and there is personal space, where everyone keeps their own items of personal value. Distinguishing between the two helps everyone know right where items belong.
-Keep a 'Grab Box'. If kids leave toys or other items out in the family living area after they are done using them, put them in the box and require the child to dust, vacuum or sweep the living area to get them back. Consistency with this will go a long way even for young children to help them form the habit of keeping their stuff in their own personal space, not the family space, and it will keep your floors nice and clean!
-Don't allow food out of the kitchen. One thing that makes a clean area of the home look dirty and cluttered instantly is crumbs of food, drink spills and the smell of something rotting that you can't find because it's hidden under the couch. Don't allow kids to eat anywhere other than the kitchen, just don't. Our rule is, if you are under 18, you can only eat in the kitchen.
-Be the example. Above all, example works best in a long-term strategy of teaching children to keep your home clean and tidy. Granted I've been working at this for several years and our children are now a little older, but they are very good with noticing when items are on the floor or couches in our living area that don't belong. They are quick to point out to their siblings when they need to pick their personal items up, most of the time that goes over well, sometimes not. One thing I have noticed is that with consistency, everyone's tolerance for clutter goes down. In the past it may have been tolerable to have 10 items on the floor before feeling the need to clean up, now it has decreased to 2-3 items on the floor before it is noticed.
---
Keeping the family living area decluttered can be a big issue for some people when they first begin decluttering, and also if your family members aren't quite on board with simple living. If you have toddlers and young children, it will be something you just have to live with on some level. Consistency in parenting and clean up time go a long way in helping children cultivate good habits of tidiness and keeping your living room area decluttered. Keep at it with these tips and ideas and you'll be enjoying your family living area more than ever!