I sometimes find myself making life complicated again, reclaiming my daily simplicity can be hard, even after experiencing the long-term benefits of keeping things simple, it seems the pull of adding more to my daily schedule, prioritizing according to societal 'norms' eventually creeps back into my daily life, causing extra stress and busyness.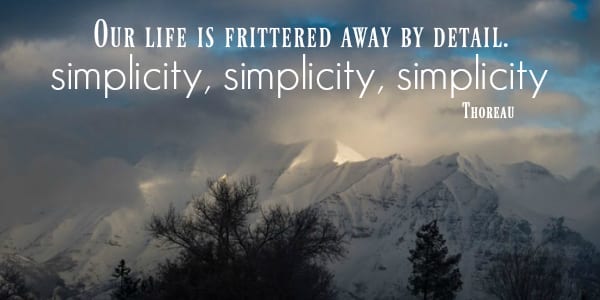 It takes concentrated effort to keep the pressures of adding 'more' from getting to me and infiltrating my time and daily life.  When I start to feel overwhelmed with obligations, I'll take some time to refocus my attention and my time on what is really important to me.  
At times, I have used some, or all of these 9 ways to help me regain my focus on living a simpler more focused life.  Perhaps some of them may help you.
9 Actions to Reclaim Daily Simplicity
One of the biggest drains on my energy has always been coming up with healthy weeknight meals that don't take a couple hours to cook.  Cooking isn't my favorite thing to do, especially when I'm tired after working all day, and still have the kid's homework to look forward to.  I have come to realize that I need to keep dinner meals to 35 minutes or less.
When I first started on my minimalism journey, I found Jules Clancy, the author of Soupstones Weekly Meal Plans for $10/month.  She provides 5 ingredient, healthy dinners that are quick to make, plus a wealth of information on different dietary needs, cooking with in season foods and more. She includes menus, recipes, shopping lists and wonderful support.
I highly recommend her service if you need help in this area.   
Walking has always been a great form of stress relief, exercise and meditation for me.  Whenever I start having a feeling of malaise, I can usually pinpoint it to no longer taking my walks or exercising consistently.
Walking helps clear my mind and just brings life back into balance, even when I'm under stress and feeling overwhelmed.  My walks are usually 30 minutes long, but even if I only get in a 20 minute walk, it helps.  
Because I have limited time, I will usually choose either walking or cardio exercise for 30 minutes per day and I tend to be more consistent if I do it in the morning rather than later when my energy level is lower.  The key is to devote the same 30 minute time slot each day in order to form the habit.    
Over the years, I have incorporated meditation into my daily morning routine.  I find that it is second in benefits to my walking habit in helping me feel focused and ready for the day.  
I have tried a variety of meditation guide programs, and have enjoyed each of them tremendously.  I find that 10 minutes each morning is the minimum that brings me benefits.  My favorite meditating help includes-
Calm.com (free 7 day course, then $4.99-$12.99 subscriptions)
Headspace (free 10 day course, then $6.24-$12.95 subscriptions)
Chopra Center Meditation (offers periodic free 21 day meditation courses, plus purchases)
4) Read books that help with keeping mindfulness and decluttering at the forefront of my mind.
During 2016, I read a number of books that I found extremely helpful in my pursuit of simple living.  Some of my favorites include-
–Clutterfree With Kids by Joshua Becker
–The More of Less by Joshua Becker
–The Habit Guide by Leo Babauta
–The Daily Stoic: 366 Meditations by Ryan Holiday
–Hands Free Life by Rachel Stafford
–10% Happier by Dan Harris
5) Get up 18 minutes earlier (2 snooze buttons less)
Depending on your personality and current sleep habits, you may be the type of person that gets out of bed as soon as the alarm goes off, or if you're like me, you may hit the snooze button once or twice first.  I am an early riser naturally, but there have been times when I just can't get out of bed as early as I'd like.  I set my alarm, and before I know it, I'm almost 20 minutes late because I've been hitting snooze.  
The common snooze timer is 9 minutes, so, knowing that I am in the habit of hitting it twice, I set my alarm for 18 minutes before I actually want to be out of bed.  Surprisingly, this works for me, even though I know I am setting it for earlier, my brain is still 'tricked' into feeling like I slept in a little longer, but I actually get up on time!
Getting up just a few minutes earlier can add some much needed extra time to your day.  What could you do with an extra 18 minutes? Cultivate a morning routine? Eat breakfast? Meditate? Not rush out the door?
6) Go to bed earlier
This goes hand in hand with getting up at the time you'd prefer in the morning.  You can't get up earlier and still go to bed late.  You'll create exhaustion on a daily basis and it will lead to health problems down the road.  In short, it is unsustainable.
You may feel like going to bed earlier isn't realistic if you have lots of family activities and things that need to be done in the evening, but I am guessing you could carve out some extra time for sleep instead of browsing social media, checking email or watching a TV program.
If you really can't find extra time for a full night of sleep, it's probably even more essential that you take a look at your lifestyle and simplify, as not enough rest will result in burnout and health issues.  Creating an evening routine can help you find extra time for what is most important.   
7) Plan 30 day goals
In the past, I've planned goals for a full year, but have ended up modifying them or discontinuing them altogether.  Like many people, I start strong at the beginning of the year, and by March I am only working on a few of them here and there.
For two years now I have been creating goals that last 30 days at a time.  Breaking my year up into 9 separate goals that are one month long each, has greatly increased my ability and mental stamina to complete them, and even make them habits. I plan only 9 goals to allow 3 months in case something comes up, vacation, summer, etc.
For 2017, some of my 30 day goals include-
-Don't eat at any restaurants or order out
-Don't order any items online
-Write for 10 minutes each day
-Meditate for 10 minutes each day
-Complete stretch routine
8) Spend a few minutes in the evening planning the next day
I am a pen and paper type of gal when it comes to being really productive.  I like to cross items off of lists and find a lot of satisfaction in writing out my day's plan.  For this, I use the BestSelf Journal.  I use it on a daily basis and love the gratitude areas, lessons learned, and it works in 12 week increments, which I break down for my 30 day goals.  It is my go-to resource.
No matter what tool you use, spending a few minutes planning the evening before for the next day, greatly reduces the rushing and stress we sometimes experience when we begin our day feeling overwhelmed.
9) Stop saying 'yes' as often
For me, this means that I stop saying yes to answering the phone every time it rings, yes to volunteering so often, yes to unnecessary outings, yes to answering every email and text that comes my way.
There are many good things in life we could say 'yes' to, but like everything, too much of anything turns out to not be such a good thing.  It's important to find your own personal balance between what is too much and what is enough.
Taking these actions on a regular basis helps keep me on track with focusing on what is most important to me, or it helps me get back on track when I've become overwhelmed and added too much already.  I hope you find the helpful as well.