It's almost officially fall! Not that I can feel it here in Georgia just yet, but I am ready for the warm weather to dissipate just a little so I can finally wear pants again. I'm excited to switch out the few pieces of specific summer wear I own in my year-round capsule wardrobe, namely shorts and sandals, for my jeans and light sweaters. This is the second year that I have not felt the need to replace my fall/winter clothing because they weren't my 'style' anymore, and I love it, though it has taken me a while to get to this point.
Just Paring Down Your Clothes to A Capsule Wardrobe Won't Work
It's been a few years since I came across Courtney Carver's Project 333 and tried it out. When I first learned about her well-thought out plan for dressing intentionally, I was already far along on my journey to minimalism, and had purged most of my clothing to the point where I had fewer than 33 pieces.
I hadn't realized that it's not enough to get rid of the clothes you don't wear, you need to have good reasons for keeping the clothes still hanging in your closet.
I went through an additional year and a half purchasing more clothes, but religiously getting rid of clothing at the same time, following the one in, one out rule. This worked to keep my number of clothing pieces under 33, but eventually I became frustrated with myself and wondered why I felt like I needed to keep purchasing new items all the time.
Most gals (and guys!) who minimize their clothing with Courtney Carver's plan do so by creating a capsule wardrobe, where they can mix and match tops and bottoms many different ways, eliminating the need for so many separate pieces that don't match. This is a great starting point, however, I learned that even with the cutest capsule wardrobe, you must make sure the clothing fits you comfortably and is something you will actually wear.
Part of my problem was that I started paring down and keeping clothes that were 'nice', good for 'special occasions' and mixed and matched well, but, I got rid of the clothing that I actually loved, like the 'comfy pants' I would change into when I got home from running errands and the sweatshirt I would wear to make a quick run to the store in the winter.
I quickly realized I didn't love any of my clothes, they were too nice for everyday use, or too constricting, the material wasn't my favorite and I missed my old, comfy clothing. I kept trying to find new clothing that would somehow create a capsule wardrobe that I loved, but I didn't base my purchases on anything other than matching colors and seasonal use.
For a capsule wardrobe to work, you must love every piece of clothing in it.
Related: Why I Wear the Same Pair Of Pants All Week
After a year and a half of cycling through paring down and adding to my capsule wardrobe over and over, my sister-in-law and mother ended up introducing me to a program that focused on dressing yourself according to your personality type. Though it was a program for style, makeup and self-exploration that I did not end up fully utilizing, it gave me some additional tools that eventually helped me end the cycle of purge, shop, repeat when it came to my wardrobe and finally helped me to 'fall in love' with my capsule.
Loving Your Capsule Wardrobe
#1: What materials do you like?
Before you pare down, check the labels of your favorite pieces of clothing, particularly your 'comfy clothes'.
Write down the blends of material they are made from (the percentages matter!). These are the clothes you put on when you are going to hang out at home, or look 'halfway decent' to run to the store.  Do you like poly-cotton blends? 100% cotton? Wool? Silk? The list of options is endless, but you'll find out what you naturally like best by looking at your tags.  
After much trial and error and money spent buying new clothes, giving them away and rebuying clothes again, I finally did this, and am happy to say I finally learned a few things about myself.
I gravitate naturally towards tops made with materials like Chambray, Modal, Lyocell and Tencel. Some blends of Rayon, Viscose and Polyester are okay, but only if the Rayon or Viscose is a higher percentage of the Poly blend. My favorite tops are made by Royal Robbins and Three Dots.
For pants and shorts, I actually do have some made in the same soft drapey materials, but, I actually like pants made from a blend of brushed cotton and Spandex. My favorites are made by Indigo Rein, they have great solid colors for various seasons.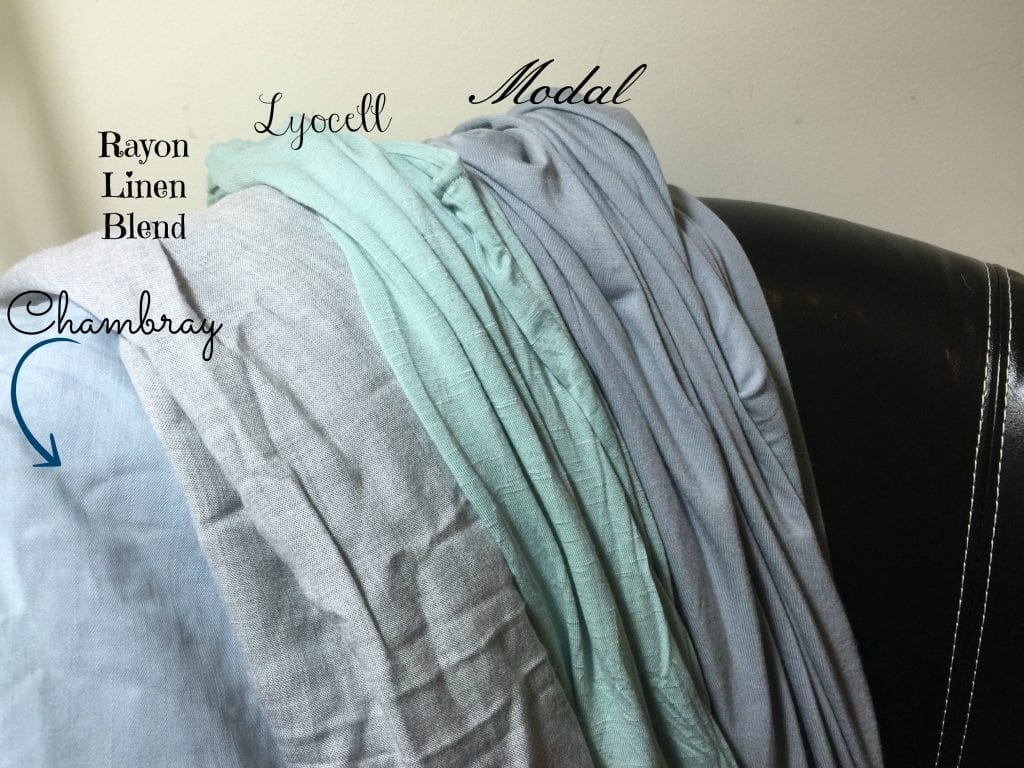 I noticed that the clothing I was donating consistently was 100% cotton, high Polyester percentages and anything with any type of Wool, Terry or other tight, thicker, scratchier materials. As soon as I realized this, I automatically started to check the tags of clothing I was considering purchasing.  Even if I liked the style or color, if it was not made with my favorite fabrics, I didn't purchase it.
#2: How does it fit?
Once I knew what materials I liked most, I still made the mistake of buying clothing made from it that I didn't wear. I was getting closer to having a capsule wardrobe I actually loved, but not quite there yet. I realized that the 'fit' matters just as much as the material type.
I prefer tops that drape and are loose around my body and hit mid-hip in length. I also like how I look most in soft v-necks, cowl neck shirts or just lower scoop neck shirts. Shirts made in my favorite materials are naturally soft and drapey, so I usually just have to make sure I get the right neck-line, length, and color.
Because I go with flowy, draping tops, I like to wear soft pants that are generally a skinnier fit. However, since I don't like stiff clothing, they are always in brushed cotton or 'soft jeans' with an element of stretch to them.
Getting the right material and best fit down was a huge part of creating a great capsule wardrobe, but I still had a couple more issues that kept me continually donating items I really liked the look and feel of.
Related: Staying Simple When Your Style Changes
#3: What is your color palette?
Bringing your capsule wardrobe together requires clothing pieces that will match no matter which way you mix it all up. This is where I was lacking in my wardrobe. I had too many colors, patterns and prints that just didn't go together. Even though they were made from my favorite materials and in my favorite fits, they didn't match, and some of the colors I realized were too dark or too light for my tastes.
What finally helped me end the struggle with choosing colors that matched was when I started using color palettes to choose my clothing. Have you ever been mesmerized by all the different color options in the paint section of your local home improvement store? I have spent a time or two picking out my favorite colors for my dream home. You can do the same thing for your dream clothes!
Match paint swatches of your favorite colors (or look them up online here), and carry them with you until you are used to choosing clothing that will match.
My color palette consists mainly of darker, 'heathered' colors, brushed clothing that looks like the main color has been mixed with white for a duller look. I realized that I don't care for bright clothing at all, even if it is the right feel and cut, nor do I like 'baby hues' or pastels, unless they are a dull, watercolor type pastel.
Using color palettes helped me tremendously when I began paying attention to color in my wardrobe, pick some up at your local hardware store, or print them out online and keep them in your purse for instant access. Jot your favorite material blends and percentages on the back for quick reference!
So, now I have clothing that fits me and I love the feel and the color! What more could I want from a capsule wardrobe? How about not spending my entire Saturday hand washing said clothing and running to the dry cleaners?
Related: Benefits of A Capsule Wardrobe & 7 Tips To Get You Started
#4: What type of care is required?
Another clothing material that I love tremendously is 100% Linen, it is flowy, a tiny bit stiff but still drapes nicely. It is also a hand wash fabric. For that reason, I won't buy anything that is made from 100% Linen,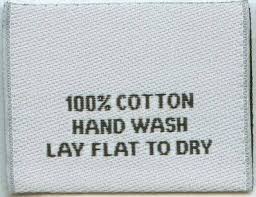 because the truth is, I will wear it and it will sit at the bottom of my hamper for weeks until I finally decide to wash it in my bathroom sink. In the meantime, I wash and re-wash all my machine friendly clothing and wear those instead.
I have realized that clothing that has a blend with linen is still really nice AND machine washable, making it a better choice for me. When you are choosing clothing, be sure to take a peek at the 'care instructions' label. Does it require ironing after every launder? Dry cleaning?
Does it require hand washing? Can you dry it in the dryer, or does it have to lay flat? Are you okay with spending the time doing laundry by hand if needed? If you are, great! If not, consider other clothing options.
Another thing I consider is the water temperature it needs to be washed in. I've noticed that as I have curated my capsule wardrobe, my matching material choices all tend to wash in cold water, which makes laundry a breeze because they all have the same care instructions and are similar colors.
---
I'm no expert on capsule wardrobes, I just know what works for me. Courtney Carver on the other hand IS the guru when it comes to helping others get started curating their own capsule clothing wardrobe. In fact, she has a micro-course that is only one week long and delivered by email, making it simple and easy and lets you get started paring down your wardrobe right now if you're ready.
The course comes with 10 lessons and a Project 333 worksheet to help, plus, she has tons of informational posts answering all sorts of common questions about capsule wardrobes, including how to choose clothing that works in all seasons. You'll also be privy to a Facebook group just for Project 333ers!
If you're interested in the micro-course, you can sign up here-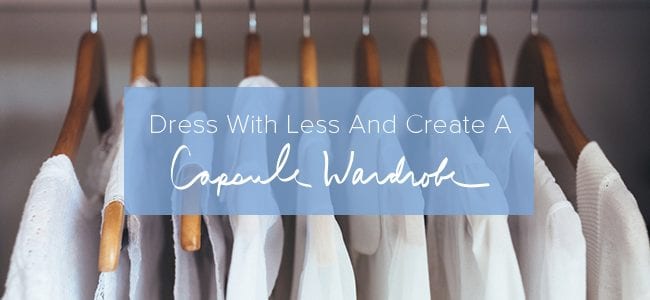 *I do receive a commission from Courtney if you sign up, but it doesn't change the price for you in anyway! Hope you don't mind.. 🙂
As fall arrives for each of us, some sooner rather than later, it's a great time to take a look at the clothing we have, and before running out and buying new pieces to go with last years 'leftovers' you still semi-like, consider a capsule wardrobe, or at the very least, intentionally purchasing clothing you will love for years to come based on material, fit, color and care.
Photo Credits: ColorSwatches, Polyvore Capsule, XpresaDesigns