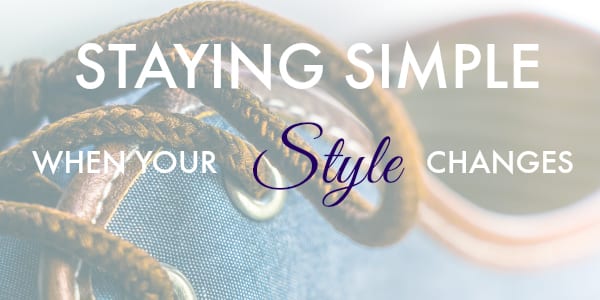 Clothing style changes over time in our lives as seasons come and go, life changes, careers begin or end, weight is gained and lost and countless other circumstances occur.  Find out how to stay simple and avoid spending a lot of money when it is time to change up your wardrobe.
The past couple of years, my clothing style has changed more often than it seems at any other time in my life, including in my teens. Maybe it's because I've hit my mid-thirties and am feeling fairly comfortable with the woman I've become, and want my outward look to reflect my inner feelings.   As my sister puts it, "you want to wear your clothes, not let them wear you."
My personal style has evolved through several phases, from whatever I had on hand, to jeans and tees or pajamas most of the day, because the kids were going to spit up on me anyway. Now that my children are older, and not making a mess ON me most of the time, it's become a lot more enjoyable to get dressed and put clothes on that match how I feel as a person.
Through this evolution there has inevitably been some style experimentation, clothing purchases that I did not end up loving and pieces in my closet that I would have adored, five or ten years ago, but don't feel the same about today. Granted, I have minimized my closet on several different occasions since I started living simpler, but my personal fashion was still in the evolutionary process, so I gained some pieces that just didn't belong.
Recently, I gave two bags of almost brand-new clothing away, good quality clothing I had purchased for a hefty price, thinking they matched my personal style, but realizing they matched the 'me' that used to be. After the second bag, I realized there had to be a better approach to handling the change we go through as human beings, as we experience different seasons in life, in regard to clothing choices and even things like home décor and hobbies.
-Look at your classics.   Instead of buying new pieces that are a completely new style, consider looking at what you've held onto for a long time, that you still enjoy and love. That jacket you've had for years, but still enjoy wearing can give you great clues as to what color, fabric or patterns will be timeless for you. Likewise, when you look around your home, keep in mind the décor that brings you the most joy, and why. Take that information with you if you are considering an update.
-Consider functionality.  I've held onto a pair of jeans and an old hooded jacket, even though they no longer fit my personal style. I keep them because they are functional and great for when we go camping or hiking and I need something I don't mind getting dirty or smoky. The same could be true for a bookcase in your home or the kitchen table. The design may not fit in anymore, but it may be a better idea to keep it around until the kids are a little older and done scratching furniture, or until you are able to really minimize your books.
-Just wait.  This is something I should have definitely done as my clothing style evolved significantly over two years. If I had just waited a bit, I may have saved myself from purchasing so many pieces that I ended up donating after wearing once or twice. It never hurts just to wait a while before a purchase, even if it is something you are fairly sure you will end up buying.
-Buy used clothing and décor.  If you feel like you are transitioning in your wardrobe, try making your new purchases at consignment clothing stores. There are plenty of upscale, consignment shops that cater to women and provide good quality used clothing to choose from. If an item ends up not quite what you had in mind, you may be able to return it, or at least know you didn't pay full price. The same can be said for home décor and furniture. Be sure to visit your local second hand stores before purchasing anything new.
The past couple of years my 'personal style transition' has been many things, enjoyable, frustrating, costly and a good learning experience. I anticipate that this probably won't be the last style evolution I go through in my life, but hopefully the next time around I'll be more prepared and can go through it keeping a simpler perspective.