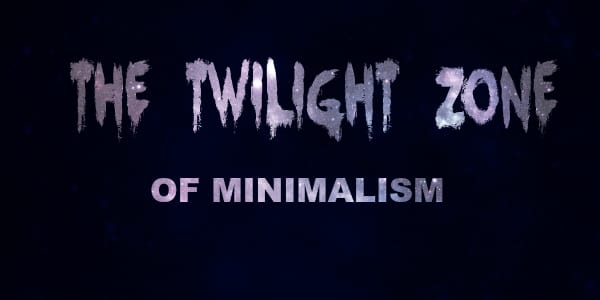 Sometimes living a simple, minimalist lifestyle can be lonely, maybe you even feel a little like you are in your own personal Twilight Zone…
Over the past couple of weeks, the kids and I have been binge watching the old 1960's episodes of The Twilight Zone. It's been a lot of fun watching the shows in anticipation of what strange phenomenon is going to occur and how it will change the characters' life. I couldn't help but think about minimalism, and how to the average person, it could seem like someone who is living a minimalistic lifestyle is living in the Minimalist Twilight Zone.
-People may think you are going a little crazy, they don't understand what is going on in your head and why getting rid of the possessions you don't use is so important and fulfilling.
-Others may think you have lost touch with reality. The reality is, you've lost touch with consuming mindlessly, getting into debt for things you don't need and spending lavishly.
-At times, you may wonder if living with less really does make you strange or odd in society. Okay, wonder may not be the right word; you probably KNOW it makes you different from the average American.
The good news is, unlike the TV show, living in a 'Minimalist Twilight Zone' ends up making your life happier, less stressful and more financially sound. Losing touch with our society's reality of purchasing just for the sake of ownership, or staying busy as a status symbol is actually a good thing.
With any luck, perhaps you can help others crossover from reality, to the Minimalist Twilight Zone and experience the benefits for themselves.
And…for your viewing pleasure, one of our favorite episodes to date- The Hitch-Hiker