One of my intentional living heroes is Courtney Carver, who writes at BeMoreWithLess. She provides wonderful insight into living a simpler, intentional life, and I regularly enjoy reading the quotes she shares on her social media. In fact, one of her pictures was so beautiful, and the quote really resonated with me when I read it, so I am sharing it with you in my post today.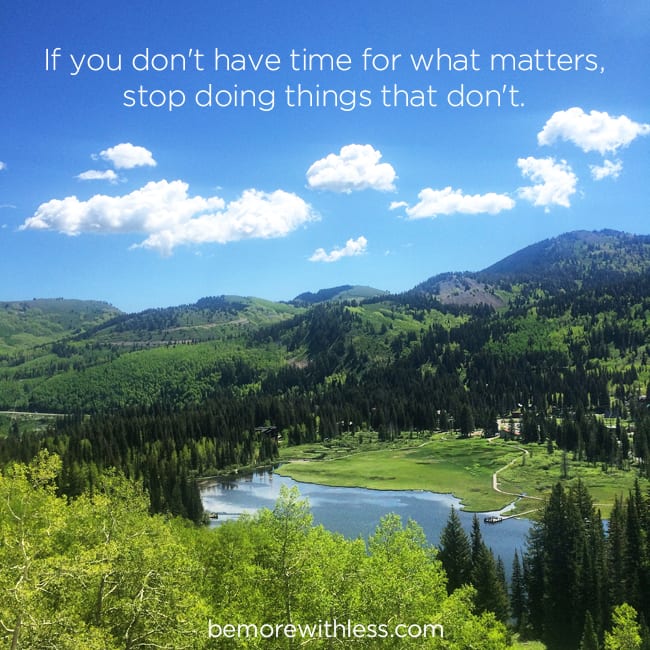 "If you don't have time for what matters, stop doing things that don't." -Courtney Carver
That is a wonderful message. The trouble is that I tend to think most things matter, that many areas of life deserve equal attention and effort, even though I don't have enough time to devote to each of them equally. I am often reminding myself that everyone has only 24 hours in a day, and each of us must prioritize what is most important as individuals.
Once we prioritize something, we need to really make it a priority. For instance, I have prioritized in writing or verbally, sleeping a full eight hours a night many times, but when it comes down to it, that priority often gets moved down the list so I can accomplish other tasks.
For many of us, we know what our priorities should be, but in practice, we don't actually put them first. These priorities could include time spent with family, saving money and paying off debt, eating healthy foods or exercising.
When I find myself losing focus of my priorities, I make time to reevaluate my daily habits. In fact, I like to pull out my 'time budget' and get realistic about what I am spending my 24 hours on, and what needs to change.
What is a time budget? Great question. I've included a download link below so you can print it and fill it out yourself. Basically, it's a circle divided into 24 hours/segments. I usually print two of them and fill out how I am currently using my time, then use the second sheet to reprioritize where I feel the need.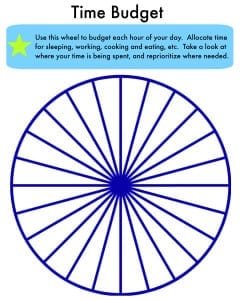 Life is meant to be truly enjoyed by doing those things that we deem the most important. Stop using your time on what doesn't matter.